Will Lester Holt fact-check at the debate? Here's how it's likely to go down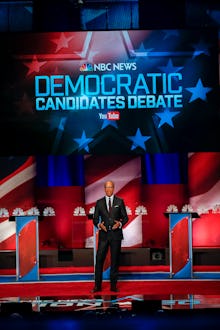 To fact check or not to fact-check? That is the question for NBC Nightly News anchor Lester Holt's moderation of one of the most highly anticipated presidential debates in modern history.
And that's not without good reason. On Monday morning, just hours before the debate, Hillary Clinton's campaign manager Robby Mook said he was concerned about fact-checking during the debate because of Donald Trump's questionable relationship with the truth throughout the campaign.
"We are concerned Trump may lie and throw misinformation out there and that Hillary will have to spend all her time trying to correct the record, rather than [talk] about the things she wants to talk about," Mook told CBS This Morning.
"All that we're asking is that the record be checked, and so if Donald Trump lies, which he has repeatedly done in the past, that that be simply checked," he said.
Fact-checking at the debate is a top priority for many viewers. 
The question of whether Holt will intervene to check facts became all the more potent after Today anchor Matt Lauer came under fire for failing to follow up on basic facts during a candidates' forum on military issues this month.
So will Holt spend his time moderating the hour-and-a-half debate or stopping to fact-check the candidates? It's unclear whether or not that'll happen.
At least for Trump, doing so would be unwelcome. Trump has said he wants Holt to focus on moderating, not fact-checking. "Well, I think he has to be a moderator," Trump said last week, according to Politico. "I mean, you're debating somebody and if she makes a mistake or I make a mistake, I'll, you know, we'll take each other on. But I certainly don't think you want Candy Crowley again."
Candy Crowley's 2012 fact-checking incident 
Former CNN chief political reporter and anchor Candy Crowley made headlines in the 2012 election during a debate between President Barack Obama and former Massachusetts Gov. Mitt Romney.
Romney accused Obama of refusing to call the Sept. 11, 2012, attack on the U.S. consulate in Benghazi "an act of terror." Crowley chimed in and corrected him, pointing out that Obama called the attack terrorism the day after the attack. It helped change the course of the debate — and the election.
Holt has been tight-lipped about his preparation for the debate.
But the Commission on Presidential Debates, which sets the rules for the debates, said it doesn't believe that moderators should be held accountable for fact-checking the candidates in real time.
"I don't think it's a good idea to get the moderator into essentially serving as the Encyclopedia Britannica," Janet Brown, executive director of the commission, told CNN's Reliable Sources.
Brown also said that fact-checking in real time opens a Pandora's box for the moderator. "I'm not sure, what is a big fact, and what is a little fact?" she said. "Does your source about the unemployment rate agree with my source?"
What we know about Holt's history with fact-checking
This is the first time that Holt will moderate a presidential general election debate. He co-hosted a Democratic primary debate in January with NBC News' veteran chief foreign affairs correspondent Andrea Mitchell.
"He mostly stuck to the conventional script. He read pre-written questions from postcards. He interrupted candidates when they went on too long. With the candidates mostly agreeing on issues, it was largely a softball affair," USA Today media reporter Roger Yu wrote.
Monday night's debate, the first between Clinton and Trump, will be divided into six segments of 15 minutes each on three topics: "America's Direction," "Achieving Prosperity" and "Securing America."
According to the commission, Holt will open each segment with a question. Each candidate will have two minutes to respond, and then a chance to respond to each other.
Whether Holt goes into fact-checking mode or just keeps the candidates on topic and on time remains to be seen. In the meantime, he's received plenty of advice and well wishes for the debate, including from President Barack Obama.