Nate Silver's 'FiveThirtyEight' gives Trump a 50-50 chance — and people are freaking out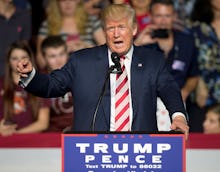 The 2016 election is currently a dead heat, according to Nate Silver's forecasting website FiveThirtyEight, prompting a mass freak-out
According to the FiveThirtyEight "now-cast" — which predicts which candidate would win if the election were held today — Hillary Clinton's odds over Donald Trump are a negligible 50.6% to 49.3% as of Monday afternoon.
But for a brief moment Monday morning, Trump led Clinton in the now-cast, which placed the GOP nominee at a 54.3% chance of victory versus his opponent's 45.7% chance.
It was the first time Trump had led in the now-cast since July 29, right before the national party conventions wrapped up and established a wide lead in the polls for Clinton.
The tightening of the race came as Clinton and Trump prepared to take the stage for the first general election debate.
Political analysts — such as the New York Times' Nate Cohn — say the massively hyped event could have major consequences this year, as there are a number of undecided voters remaining, according to polls released in the last few days.
"The sizable number of undecided voters is partly responsible for the volatility in the polling this year," Cohn wrote in an analysis published Monday. "Mrs. Clinton's lead has bobbed between two and eight percentage points since April (though Mr. Trump held a fleeting lead in the few days immediately after the Republican convention). With so many voters on the sidelines, fairly modest shifts in the tone of the race or news media coverage can bring undecided voters on to or off the sidelines, moving the polls even as few voters actually change their minds."
FiveThirtyEight still says Clinton is a slight favorite in their long-range forecast, which has the Democratic candidate at a 53.8% chance of victory — though that means the election odds are essentially a coin toss.
However, those odds are as close as they've been since the forecasting model was posted on the website in June, after the primaries wrapped.
And it had anti-Trump Twitter users panicking: