Home Depot Canada pulls highly realistic "Scary Peeper Creeper" Halloween decoration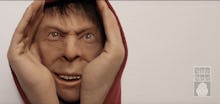 What's scarier than looking through your window and seeing the crazy and malevolent eyes of a strange man staring back at you? Not much, as the guinea pigs in this video advertisement for Scary Peeper Creeper, a problematic Halloween decoration that's making waves in Canada, can attest. The Scary Peeper Creeper has proved terrifyingly convincing and as such, will be pulled from Canadian shelves, the Washington Post reported. 
The Scary Peeper Creeper is a vinyl man head with hands cupped around its leering face that suction cups onto the outside of any window, terrifying those on the other side of the glass. Its "realistic face looks just like a real man is peering through the window at you," per the online description, and it "packs easily away in a box until you are ready to scare again."
"When you look at the Scary Peeper, it's believable right off the bat," as a voice explains in the video ad. "You see those eyes and you're sold that somebody is peering in and staring at you."
Given its lifelike appearance and incredible convenience, you may think the Scary Peeper Creeper the perfect Halloween decoration/solution for pranking your spouse. Some Canadian customers would disagree, having complained that its "high quality soft vinyl construction" too closely approximates the face of a real, live rapist. The decoration, according to Toronto local and Scary Peeper Creeper victim Breanne Hunt Wells, makes a joke of voyeurism, which is illegal in Canada and, according to Canadian authorities, closely linked to other sex crimes, including rape and sexual assault. 
"I fail to see the humor in it," Hunt Wells told CBC News' Metro Morning radio show Monday. "It makes light of a very serious crime. Voyeurism is a crime in Canada."
"I would say to people that say 'it's just a joke' there are a lot of things in our society that have been just a joke over time," she continued. "Racial jokes, cultural jokes. It takes some talking and thinking to realize that maybe we need to be more sensitive. The people that commit this crime are not harmless people."
According to the Post, the product will be pulled from Canadian Home Depot shelves because, as a spokesperson explained, it is "not in line with our core values." The company also said that the Scary Peeper evoked serial rapist and murderer Paul Bernardo — otherwise known as the Scarborough Rapist and one half of the "Barbie and Ken" killers — for some customers, the Post reported. 
But as a spokesperson for Home Depot U.S. told Mic in an emailed statement, the company will continue to sell Scary Peeper Creeper — as well as his next of kin, Tapping Creeper — in stores and online.