6 of the best wireless headphones for your iPhone 7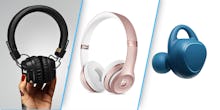 When Apple CEO Tim Cook introduced the iPhone 7 at the 2016 Apple keynote, a sense of panic filled the internet. The headphone jack, which had so loyally and sweetly held our EarPods, was going extinct. 
In order to keep using your old headphones, you'll have to use an adapter, or do what Apple really wants: Embrace wireless headphones. Welcome to the future. 
Though it may have been a shock (and still may be), there really is no reason to panic. Turns out, although you might have not known it before, wireless headphones can be cute as hell. 
Sure, there are big clunky black ones, as well as ones that wrap around your head. But there are also pink ones and blue ones. There really may be a pair of wireless headphones for everyone — so let's run through the best of them. 
If you want hipster color options
These pairs from Urbanears prove wireless can be fun. The brand has three different styles of wireless, over-ear headphones, and the simplest one, called the Plattan ADV Wireless, has all the colors — 14 in total. 
You can buy them in hipster shades like powder pink, sea gray (which is more like a lilac), snow blue, indigo, bonfire orange and our personal favorite, tomato, which is bright, bright red. 
The classic frames range from $59.40 to $99, depending on the color. After one charge, they can play for up to 14 hours, and you can remove the headband and throw it in the wash. 
If you're more into a retro look
But if looking like a hipster or Natalie Portman in Garden State isn't your thing, Marshall, best known for its guitar amplifiers, has a pair of Bluetooth headphones called Major II Bluetooth that look like two big speakers on either side of your head. 
If you ended up buying the matte black iPhone, these headphones would match that perfectly. 
They retail for $149, they hold a 30+ hour playtime on a single charge and they're collapsible. 
If you want to look cooler than you actually are 
What's one easy way to make people think you're a cool, thriving person with amazing music taste and also hate to hear other people talk over your music?
Wear Beats by Dre headphones. 
Beats, which is owned by Apple, has plenty of wireless headphones to choose from, though they come with an extremely high price tag. Sold for between $299 to $449, these large, wireless headphones will also make you look richer than everyone else. (And really, what's better than that?) 
They come in iPhone-matching shades like rose gold, white, black and various patterns as well. The studio wireless versions, which are the more expensive option, last for 12 hours without a charge. The less expensive version, called the solo wireless, actually has up to a 40-hour battery life. 
If you want your headphones to basically be invisible 
If large, over-the-head headphones seem far too clunky for our already cluttered world, there are wireless headphones where the only wire is the one connecting the two earbuds. 
Over at Samsung, you can get a pair of these headphones, which have a battery life of 5.5 hours and are sweat resistant, for $99.99. Over at Bose, there's these little babies, which are priced at $149.95 and come with a six-hour battery life. And over at Beats by Dre, you can get wireless wrap-around headphones for between about $150 and $200, which last between eight to 12 hours. 
Samsung has tiny blue earbuds called the Gear IconX that look like magical lima beans. You can get these blobs of plastic for about $200. They boast a listening time of nearly 4 hours, and apparently they're water-resistant too. 
If you want to look like a dad on vacation 
Bose headphones are like Beats for people who really, really hate the sound of other people. They are also only for people who can swallow spending more than $200 on headphones and want to look like a father of three on vacation.  
The company has several wireless options to choose from, and the over-ear headphones are priced from $219 to $349. The good thing about these particular headphones is that each comes with a battery that lasts at least 15 hours and gives you the pleasure of sweet, sweet silence.
If you want to continue to let Apple control your life 
We almost forgot. Apple's new headphones, called AirPods, are futuristic devices that are basically voice-activated computers for your ears. They could work for you, but only if you're one of those people who never loses anything ever. 
As we previously noted, these little babies look like disembodied goat hooves. They let you listen to five hours of music on a single charge, and they come with a tiny little case that can provide three hours of listening time in 15 minutes flat. 
Available starting in late October, AirPods will be sold for $159 a pop, which is kind of a bargain compared to those Beats and Bose headphones. 
So although you may have panicked at the thought of your beloved headphones with a cord being forced into extinction, there's really nothing to worry about. And if you want to keep your old headphones, there's always Apple's $9 dongle.