Zomba Prison Project doc aims to share the words of Malawi's most vulnerable and voiceless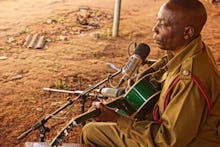 There are 7 billion people on planet Earth, and nearly everyone responds to and expresses themselves through music. Yet only a fingernail sliver of these people ever encounters a genuine opportunity to share their feelings with the masses. The musicians who do are generally those with reliable accesses to technology and a willingness to bend themselves to radio's thin variations. It leaves so countless voices out of humanity's musical conversation, particularly those in the third world, or those incarcerated. 
Author and record producer Ian Brennan has made it his mission to break this hegemony. His latest offering in this vein is the Zomba Prison Project, an initiative collecting field recordings from a maximum security prison in Zomba, Malawi, Africa. Sung by prison guards and inmates, these songs of love and loss transcend language and border. They necessarily expand our conceptions of what music can be and the role it can play in an individual's life.
Tuesday via Mic, the Grammy-winning producer and author premieres a video introduction to the second volume, I Will Not Stop Singing, showing footage of the overcrowded prison and the inmates whose voices still matter.
Zomba Prison, and prisons in general, represent for Brennan a portion of the population particularly vulnerable of finding itself and its stories wiped from memory and history.
"Everywhere on the planet — be that Laos, Brazil or the USA — the least advantaged economically are incarcerated at a higher rate than anyone else," Brennan said via email. "And often the prisoners themselves are maligned to the point of being invisible, or even censored. Yet their need for expression often runs high, given the extraordinary circumstances that they endure daily, such as the extreme overcrowding at Zomba and their going without food for up to three days at a time."
Brennan released the first iteration of the project 2015, and it went on to earn the country of Malawi its first Grammy nomination. An expert and author on conflict resolution, Brennan first gained access to the prison offering to teach classes on the subject. While there, he saw so much musical talent and began inviting prisoners and guards to record the compositions they had written. 
He was initially hesitant to record a second iteration of the project, but that changed after visiting again and hearing "I Will Never Stop Grieving for You, My Wife," by a prisoner named Binamo, which appears as the album's third track.
Brennan remembers hearing alongside a "television crew comprised of a team of war-journalist veterans — middle-aged individuals that have 'seen it all' for decades." He watched them melt to tears by the power of the song. 
"Despite not knowing what the lyrics were precisely saying, there was a not a dry eye in the house," Brennan said. "This was due entirely to the sheer power of what Binamo was communicating."
"Hopefully, [listeners] are able to hear the intimacy of the recordings and take away a sense of relationships, as well as time and place," Brennan wrote, sharing his hopes for the work. "Too much music now sounds like it was churned out by some candy factory, oracle, assembly line and without the involvement of any heart or humanity. It arises from this void and therefore is empty. Consequently, it goes in one ear and out the other without any real impact on or resonance in a listener's life.
"Music at its best elevates or alters lives. And, in the most sacred cases, it can even save them."
Listen to the second release from the Zomba Prison Project, I Will Not Stop Singing, via Spotify below.