First presidential debate liveblog: Highlights and full recap of Clinton vs. Trump faceoff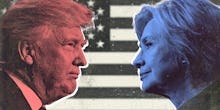 Locked in a fiercely competitive battle nationally and in key battleground states, Donald Trump and Hillary Clinton entered their first debate at Hofstra University amid high stakes and even higher anticipation.
Ahead of what many anticipate to be the most-watched presidential debate in history, Trump aims to cross the plausibility threshold for an electorate that's far from enamored of Clinton, but is no less skeptical of the brash billionaire. Clinton, meanwhile, hopes to drive home the image of Trump as a volatile figure who cannot be trusted with the nation's nuclear codes.
Will Clinton manage to halt Trump's momentum, or will the former first lady, senator and secretary of state find herself fall victim to a hunger for change and doubts about her honesty and trustworthiness?
Follow below as Mic keeps you up to speed on each critical moment in the debate. All times are Eastern. – Luke Brinker
10:22 p.m.: Clinton and Holt call out Trump for lying about his Iraq War support.
Hillary Clinton called out Donald Trump for lying about his support of the Iraq War.
Trump has claimed over and over again that he was always against the Iraq War. Except an unearthed interview from 2002 shows Trump did support the war before it began a year later.
"Well, I hope the fact checkers are turning up the volume and really working hard. Donald supported the invasion of Iraq," Clinton said, to which Trump continually interrupted with interjections of "wrong."
After Holt also noted Trump's early support for the invasion, Trump called the notion that he was ever pro-way "mainstream media nonsense put out by [Clinton]." — Emily Cahn
10:11 p.m.: Clinton shuts down Trump after he attacks her choosing to "stay home" and do debate prep.
Amid a conversation about race in America, Trump said he's seen the hardships cities like Detroit, Michigan and Philadelphia, Pennsylvania face firsthand.
"I've been all over the place," Trump said. "You decided to stay home, and that's okay, but I will tell you — I've been all over, and I've met some of the greatest people I'll ever meet within these communities, and they are very, very upset with what their politicians have told them and what their politicians have done."
Clinton quipped back, wondering if Trump criticized her for "preparing for this debate."
She added, to applause from the audience, "And yes, I did. And you know what else I prepared for? I prepared to be president. And I think that's good thing."
— Marie Solis
9:59 p.m.: The candidates delved into the debate over race and policing.
Race became a topic of debate during the "Direction of America" segment of the debate.
Clinton acknowledged how race plays a role in the future of an individual and cited gun violence as a leading killer of African-American men.
"The gun epidemic is the leading cause of death of young African-American men, more than the next nine causes put together," Clinton said. "We have to restore trust, we have to work with the police. We have to make sure they respect the communities and the communities respect them and we have to tackle the plague of gun violence, which is a big contributor to a lot of the problems that we're seeing today."
Trump quickly jumped to link President Obama with the casualty rate of gun violence in Chicago. He also applauded former New York City Mayor Rudy Giulani's stop-and-frisk program.
"In fact, almost 4,000 have been killed since Barack Obama became president, over four, almost 4,000 people in chicago have been killed," he said. "We have to bring back law and order. Now, whether or not in a place like Chicago you do stop and frisk, which worked very well, Mayor Giuliani is here, worked well in New York, brought the crime way down."
– Sarah Harvard
9:39 p.m.: Trump won't release his tax returns until Clinton releases her emails.
Donald Trump appeared to set a condition for releasing his tax returns which he has yet to do — the first presidential candidate in 40 years not to do so.
Trump said he is under audit from the IRS, but he'd release his returns when Clinton releases her "deleted emails."
It was the first moment where the audience broke rules and loudly and audibly reacted.
"So it's negotiable?" moderator Lester Holt said.
Clinton, on the other hand, called Trump's conditions a "bait and switch."
"Why won't he release his tax returns? And I think there might be a couple of reasons. First maybe he's not as rich as he says he is. Maybe he's not as charitable as he claims to be." — Emily Cahn
9:36 p.m.: Trump on blaming Clinton for "literally everything": "Why not?"
Following an odd, contentious exchange in which Trump claimed Clinton had been fighting the Islamic State "for her entire adult life," Trump fielded a question about tax increases and turned attention to the national debt.
"It's probably $5 trillion that we can't bring into our country, Lester, and with a little leadership, you'd get it in here very quickly and it could be put to use on the inner cities and lots of other things and it would be beautiful," Trump said. "But we have no leadership. and honestly, that starts with Secretary Clinton."
Clinton looked down at her notes and laughed, kicking off one of the most surreal moments of the debate so far.
"I have a feeling by the end of this evening I'm going to be blamed for everything that's ever happened," Clinton said.
"Why not?" Trump interjected.
"Yeah. Why not? Just join the debate by saying more crazy things. Now, let me say this ..." Clinton said, going on to detail her point.
— Stefan Becket
9:17 p.m.: Both candidates start off on a populist note.
Fielding the first question from Lester Holt, both Clinton and Trump talked about their plans to spur job growth. Holt asked, "Why are you a better choice than your opponent to create the kind of jobs that put more money into the pockets of American workers?"
Clinton, speaking first, emphasized progressive elements of her economic agenda, framing the election as a decision about "what kind of country we want to be in, what kind of future we'll build together."
"Let's have paid family leave, earned sick days. Let's be sure we have affordable child care and debt-free college," she said. "How are we going to do it? We're going to do it by having the wealthy pay their fair share and close the corporate loopholes."
Trump's answer to the question was to point the finger at China and Mexico.
"[China is] devaluing their currency and there's nobody in our government to fight them," he said. "We have a very good fight, and we have a winning fight, because they are using our country as a piggy bank to rebuild China and many other countries are doing the same thing. So we're losing our good jobs, so many of them."
"We have to stop our jobs from being stolen from us," Trump said. — Stefan Becket
9:05 p.m.: Bernie Sanders live-tweets the debate.
Sen. Bernie Sanders, who is squarely behind Clinton after losing the Democratic primary earlier this year, is live tweeting the debate.
His first tweet of the night is off to a fiery start, noting Trump does not believe in climate change. – Emily Cahn
8:40 p.m.: Clinton will fact-check Trump on birtherism.
Trump denounced his five-year stint as a birther earlier this month, saying he now believes President Barack Obama was born in the U.S., and later charging Clinton with starting the racist rumor.
However, Clinton didn't start the birther movement, and CNN is reporting that she will call Trump out if he repeats that lie during the debate.
– Emily Cahn
8:01 p.m.: Hillary Clinton rolled out President Barack Obama to dig at Trump.
Seemingly in response to Trump's troll, Clinton jabbed back, posting video of President Barack Obama's 2011 White House Correspondents' Dinner in which the president relentlessly mocked Trump and his birtherism.
Many say Obama's speech got under Trump's skin, and is what drove the Republican businessman to run for president.
"Obviously, we all know about your credentials and breadth of experience," Obama said to Trump in his speech, clearly mocking Trump's skills and drawing laughter from the crowd. "For example, no, seriously, just recently, in an episode of Celebrity Apprentice, at the steakhouse, the men's cooking team cooking did not impress the judges from Omaha Steaks. And there was a lot of blame to go around. But you, Mr. Trump, recognized that the real problem was a lack of leadership. And so ultimately, you didn't blame Lil' Jon or Meatloaf. You fired Gary Busey. And these are the kind of decisions that would keep me up at night. Well handled, sir. Well handled." – Emily Cahn
7:46 p.m.: The debate hasn't even started, and Trump is trolling Clinton.
In a jab at Clinton's "basket of deplorables" remark about Trump's supporters, the Republican nominee fired off this tweet two and a half hours before showtime:
– Luke Brinker