When is the next presidential debate? Here's the remaining schedule for the 2016 election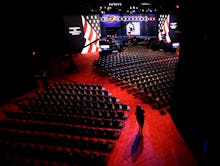 Donald Trump and Hillary Clinton's first presidential debate, which drew an estimated 100 million viewers, was, in more ways than one, historic. Viewers wondering when the next presidential debate will be might be pleased to know the next face-off between the presidential nominees will take place about two weeks from Monday, giving them plenty of time to gather their thoughts. 
On Sunday, Oct. 9, Trump and Clinton are set to meet again at Washington University in St. Louis. 
Historically, the first debate is always the most-watched. In October, Trump and Clinton's second debate will be a town hall style meeting moderated by CNN's Anderson Cooper and ABC's Martha Raddatz.
Before the next presidential debate, the vice presidential candidates will meet next Tuesday. Indiana Republican Gov. Mike Pence and Virginia Democratic Sen. Tim Kaine will debate at Longwood University in Farmville, Virginia. 
Both the vice presidential debate and the remaining presidential debates will run from 9 p.m. to 10:30 p.m. Eastern.