Donald Trump just patronized Hillary Clinton in a transparently sexist way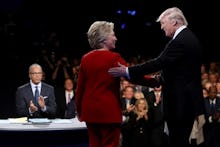 It didn't take long for Donald Trump to take a sexist jab at Hillary Clinton at the first presidential debate Monday night in New York.
During a discussion of trade policy, Trump charged that politicians like Clinton were unable to promote pro-worker trade policies, asking his opponent whether it was "okay" to refer to her as "Secretary Clinton."
"In all fairness to Secretary Clinton — yes, is that okay?" Trump said with a sarcastic tone of Clinton's title. "Good. I want you to be very happy. It's very important to me," he added, as Clinton smiled with bemusement.
Sexism was expected to be a theme of the debate, given that Clinton is the first female presidential candidate to grace a debate stage.
But Trump's sexist jab came just 10 minutes in to a 90-minute debate.
People on Twitter were up in arms about Trump's sexist undertome.