Donald Trump had a rocky first debate at Hofstra — but it's far too soon to count him out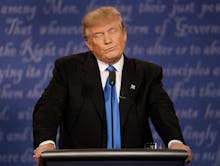 HEMPSTEAD, N.Y. — Donald Trump showed up at Hofstra University Monday with one job: Stand his ground and look "presidential" against a more experienced, better prepared rival on the debate stage.
The Republican presidential nominee certainly let loose with a couple of doozies during the 90-minute showdown, but he'll live to debate another day (technically, two).
Trump, a first-time candidate with a penchant for incendiary remarks and a sometimes loose association with detailed facts, probably didn't drive away any of his base supporters, but observers that were questioned after the debate said he likely didn't do much to attract droves of coveted independent and undecided voters.
Ashley Koning of the Eagleton Center for Public Interest Polling at Rutgers University said Trump had his moments — more than a few of them reheated from his standard stump performances.
While Koning said Trump "remained measured for the most part throughout the debate — perhaps all that was expected of him going into tonight given past performances — but he continues to rely on his traditional attacks against Clinton's emails, references to China and Mexico, and vague ideas about his plans for the country."
Trump "produced some uncomfortable moments throughout the night — asking Clinton what he should call her in order to keep her happy, making some [audible] groans, and growing heated and interrupting both Clinton and the moderator," Koning said.
But she gave the night's top honors to the Democratic nominee.
"Clinton, in contrast, is in prime form," Koning said. "She has had some major wins tonight on Trump's taxes and birtherism."
Former White House Press Secretary Dana Perino, now of Fox News Channel, said both candidates, for better or worse, came off as themselves — something she'd advised them to do in a pre-debate interview:
Political scientist David Redlawsk of the University of Delaware said Clinton "came prepared to goad Trump and did regularly. He often rose to the bait."
Redlawsk also found Trump short on details, while allowing that debate formats make that hard to do.
"I really felt Clinton shined in the temperament discussion, but again, [I'm] not sure his temperament turns off those who already support him. It's what they like!" he said.
Same goes for Trump's lack of detail on substantive policy issues, the professor said, but again, Trump supporters may not be fixated on that, so he's unlikely to have lost ground with his base there.
In the end, Redlawsk said, Monday's showdown "might move the needle a little toward Clinton, but I suspect as usual any effects will be short term ... I think Trump did need to reach out beyond his base to get over the hump of actually winning. I don't think he did that tonight. But there are two more debates to go."
Of course, voters will be the final arbiters.
"He was okay up to the race issue," said Kerry Ladka, an undecided independent voter from Long Island who famously set Twitter afire four years ago with a question from the Hofstra audience during President Barack Obama's debate against GOP challenger Mitt Romney.
"Calling for 'law and order' sounds fascist, and his statement that stop and frisk was not ruled unconstitutional in New York is wrong," Ladka added.
Ladka said coming into Monday's face-off, Trump's challenge was to "look and sound presidential."
That the GOP nominee "takes no responsibility for his 'birther' position and not releasing his taxes is a problem for me," he said in a message exchange with a reporter as the debate drew to its conclusion.
"However, he does seem deliberate and well spoken and seems to be calmer than he usually is. Interesting so far," said Ladka, who took in this year's debate from home.
"He's more impressive than I expected, but [I'm] not sold yet."
Clinton and Trump face off again in Missouri on Oct. 9.