Here's how Democrats reacted to Trump vs. Clinton in first presidential debate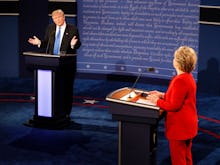 As Donald Trump and Hillary Clinton sparred in the first presidential debate, Clinton's top supporters offered a vigorous defense of the Democratic nominee on Twitter. And they criticized a myriad of Trump's statements as he frequently interrupted and attacked his opponent. 
Pro-Clinton Super PAC advisor Paul Begala, a longtime Democratic strategist, critiqued the way Trump repeatedly jumped in to attack Clinton's comments with a vivid reference to fishing.
Top Clinton supporters said Clinton skillfully kept Trump's attacks at bay. 
Other Clinton advisors went on the offensive. 
Dan Pfeiffer, a former top advisor to President Barack Obama, threw out some snark as the candidates talked about race relations in the U.S.
And Vermont Sen. Bernie Sanders tweeted heavily throughout the debate to support Clinton and criticize Trump's proposals.