Presidential debate full transcript: Here's where to find Monday's full remarks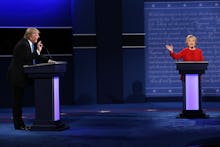 Donald Trump and Hillary Clinton met face-to-face on Monday night in the first presidential debate of the 2016 election. Here are early full transcripts of the debate from Forbes and the Washington Post.
Nearly an hour into the debate, moderated by NBC Nightly News anchor Lester Holt, the two squared off on jobs, the economy and trade deals.
Trump was also asked about releasing his taxes, which he responded by questioning Clinton on her email scandal.
"I will say this. We have a situation in this country that has to be taken care of. I will release my tax returns -- against my lawyer's wishes -- when she releases her 33,000 e-mails that have been deleted. As soon as she releases them, I will release," Trump said.
The two also sparred over ISIS, with Trump accusing Clinton of fighting ISIS for her "entire adult life."
"She's telling us how to fight ISIS. Just go to her website. She tells you how to fight ISIS on her website. I don't think Gen. Douglas MacArthur would like that too much," he said.