This is why Donald Trump won't release his taxes, according to Hillary Clinton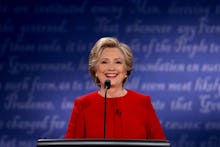 Hillary Clinton said that Donald Trump is not releasing his tax returns because he may not be as rich as he claims, or because he may pay no federal income taxes.
The moment came after Trump set conditions for releasing his tax returns — a time-honored tradition for American presidential candidates that Trump has not followed.
Trump, who has said an IRS audit is keeping him from releasing his returns, said he'd release them when Clinton releases her deleted her emails.
"I think you've just seen another example of bait and switch here," Clinton said. "We know the IRS has made clear there is no prohibition on releasing it when you're under audit. So you've got to ask yourself, 'Why won't he release his tax returns?'"
"Maybe he's not as rich as he says he is," Clinton said, adding "Maybe he's not as charitable as he claims to be."
"Or maybe he doesn't want the American people, all of you watching tonight, to know that he's paid nothing in federal taxes," Clinton said.
Trump, in response, bragged about his net worth.
The only way to fact check that number, however, is if he releases his tax returns.