Donald Trump's sexism was the most revealing part of the first presidential debate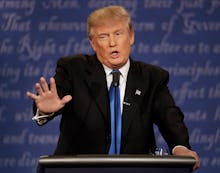 The first general election debate tackled a wide range of issues, including the economy, race relations and terrorism.
But it was Donald Trump's sexism that left perhaps the most indelible mark Monday night, as the Republican nominee patronized, interrupted and demeaned Hillary Clinton — and other women — throughout the 90-minute debate.
It played right into the hands of the Clinton campaign, which has been making the argument that Trump is a misogynist who does not respect women — including a new ad suggesting that the brash billionaire's comments are harmful to young girls.
Trump's performance Monday is unlikely to help his effort to boost his support among suburban women, which he must do if he wants to win the election in November.
Trump's first sexist remark came in the initial 10 minutes of the debate, when he patronizingly asked if it were "OK" to call his opponent "Secretary Clinton."
"In all fairness to Secretary Clinton — yes, is that OK?" Trump said, referring to her title. "Good. I want you to be very happy. It's very important to me."
Later on, Trump took aim at Clinton's "stamina," telling her that as he traveled around, she "decided to stay home, and that's okay."
Clinton's forceful response will likely be one of the most memorable moments of the night.
"I think Donald just criticized me for preparing for this debate, and yes, I did," Clinton said. "And you know what else I prepared for? I prepared to be president. And I think that's a good thing."
Moderator Lester Holt also asked Trump what he meant in a past statement, when he said Clinton — the first woman nominee of a major political party — didn't have a "presidential look."
"She doesn't have the look," Trump said. "She doesn't have the stamina. I said she doesn't have the stamina, and I don't believe she does have the stamina to be president of this country, you need tremendous stamina."
Clinton received cheers from the audience with her response.
"Well, as soon as he travels to 128 countries and negotiates a peace deal, a cease-fire, a release of dissidents, an opening of new opportunities in nations around the world or even spends 11 hours testifying in front of a congressional committee, he can talk to me about stamina," Clinton said.
After the remark, Trump attempted to pivot away, but Clinton wasn't having it.
"He tried to switch from looks to stamina," Clinton said. "But this is a man who has called women pigs, slobs and dogs, and someone who has said pregnancy is an inconvenience to employers."
"One of the worst things he said was about a woman in a beauty contest," she continued after Trump tried interrupting her. "He loves beauty contests, supporting them and hanging around them. And he called [a] woman Miss Piggy. Then he called her Miss Housekeeping, because she was Latina. Donald, she has a name, Alicia Machado. She has become a U.S. citizen, and you can bet she's going to vote this November."
Twitter was ablaze, calling out Trump's sexist remarks.