Here's how Republicans reacted to Trump vs. Clinton in the first debate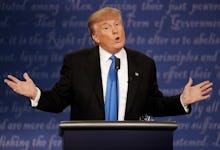 While viewers were glued to the first debate between Donald Trump and his opponent, Hillary Clinton, there were a wide array of reactions on Twitter from the GOP, which is undoubtedly splintered over their candidate for president.
Kellyanne Conway, Trump's campaign manager, derided Clinton for asking for fact-checking during the debate.
Ted Cruz, the Republican Texas senator who ran against Trump in the primary, lost, and then withheld his endorsement until this week, attacked Clinton.
Jason Miller, senior communications adviser to Trump, tweeted about Clinton's email scandal.
And former Trump campaign manager, Corey Lewandowski, who now works as a commentator for CNN, tweeted that Clinton has been "all talk and no action."
Before the debate, Donald Trump tweeted that his "team of deplorables" would be tweeting while he was speaking onstage at Hofstra Unitversity.
Since then, his team has tweeted many times.