Howard Dean suggests Donald Trump used cocaine before debate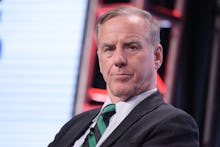 While Republican presidential nominee Donald Trump and Democratic nominee Hillary Clinton were duking it out Monday night at the first presidential debate of the 2016 election season, former Vermont governor and 2004 Democratic presidential candidate Howard Dean took note of the numerous times Trump was seen sniffing on camera — and reached a very specific conclusion.
Trump was on cocaine, Dean suggested on Twitter at around 10:00 p.m.
The tweet quickly went viral, reaching more than 10,000 retweets as of shortly after 10:40 p.m. Eastern.
While snorting cocaine indeed irritates the nasal passages, which could result in a user sniffing his nose after use, there are numerous other potential causes for nasal irritation — all of them presumably more likely than a presidential candidate using cocaine before his first debate with his opponent.
Nonetheless, numerous cocaine-related jokes took over Twitter throughout the night, many of them referring to Trump's use of the phrase "many people are saying" to evidence dubious rumors.
Trump, for his part, claims to be a teetotaler who abstains from all drugs, including cigarettes and alcohol.