Who is Alicia Machado? Here's the woman who Trump called "Miss Piggy"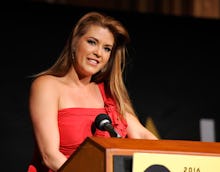 During Monday night's presidential debate between Democratic nominee Hillary Clinton and Republican nominee Donald Trump, Clinton took a swing at Trump's past comments about women — particularly, his derogatory remarks toward former beauty pageant queen Alicia Machado.
"One of the worst things he said was about a woman in a beauty contest," Clinton said. "He loves beauty contests, supporting them and hanging around them. And he called this woman 'Miss Piggy' — then he called her 'Miss Housekeeping,' because she was Latina. Alicia Machado, Donald — she has a name."
Machado was the 1995 winner of the Miss Venezuela pageant. She went on to be crowned Miss Universe the next year, when she was 19. That's when, according to Machado, she began to be bullied by Trump, who was then the owner of Miss Universe Inc., the company behind the pageant.
In an interview with Inside Edition in May, Machado said Trump bullied her "all the time," mocking her weight and calling her "Miss Piggy." According to Inside Edition, Trump wasn't shy about confirming Machado's story at the time, giving interviews about how he was taking her to the gym to encourage her to lose weight.
Speaking to the New York Times in May, Machado said Trump's treatment of her left her with lasting harm. 
"After that episode, I was sick, anorexia and bulimia for five years," she said, speaking about Trump's public admonishment of her weight. "Over the past 20 years, I've gone to a lot of psychologists to combat this."
As Clinton said Monday night, Machado has become a U.S. citizen — just in time to vote in November's election.