Here's what it's like to be interrupted 28 times in a presidential debate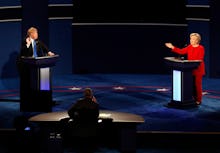 During the first presidential debate of the 2016 general election on Monday night, Republican nominee Donald Trump had a lot of things to say — many of them while his opponent, Democratic nominee Hillary Clinton, was trying to talk.
In fact, Trump tried to interrupt, talk over or simply interfere with Clinton's statements at least 28 times during the debate, according to a running tally kept by Mic. For a candidate with a long and well-documented history of sexist attacks on various women from comedian Rosie O'Donnell and GOP primary opponent Carly Fiorina to Fox News host Megyn Kelly, who boasts abysmal poll numbers among even women of his own party, and whose opponent is running relentless attack ads on that very subject, it was a debate strategy Trump may come to regret.
Watch Mic's compilation of all the times Trump cut short his opponent below: