Donald Trump says Miss Universe Alicia Machado "gained a massive amount of weight"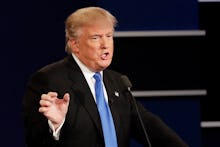 Following Monday's debate, Donald Trump doubled down on his attacks against former Miss Universe pageant winner Alicia Machado, saying she was "the absolute worst" because she "gained a massive amount of weight" after she won the pageant.
"She was a Miss Universe contestant and ultimately a winner who they had a tremendously difficult time with as Miss Universe," Trump said of Machado Tuesday morning on Fox & Friends. "She was the winner and she gained a massive amount of weight and it was a real problem."
Trump's attacks on Machado came after Monday night's debate, in which he played dumb and acted as if he did not know Machado after Hillary Clinton brought her up. During the debate, Clinton denounced Trump's mean-spirited attacks on Machado's weight and Latina heritage, and she pointed out that Machado has become a U.S. citizen and so can vote against Trump in November.
Trump's comments against Machado only made his dismal debate performance on Monday night worse, handing Clinton even more ammunition to make the case that Trump is a sexist and misogynist who doesn't respect women.
Clinton's campaign had already released an ad with Trump's own words attacking women for their looks.
And after the debate, the Clinton campaign was prepared with a video of Machado explaining how Trump demeaned her for her weight following her pageant win.
Twitter was disgusted by Trump's body shaming.
On Twitter following the debate, Machado thanked Clinton in Spanish for the support:
"Thank you Mrs. Clinton for respecting women and the differences that make us great! I'm with you!" the tweet read.