Stephen Colbert gives the first debate to Clinton, calls out Trump's incessant sniffling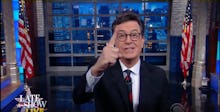 Following the first presidential debate, The Late Show host Stephen Colbert went live to break down what viewers just saw — and the expectations that had been set forth for each candidate. In short: Hillary Clinton had the higher expectations, and exceeded them.
"For Clinton to win, she had to be confident, but not smug; knowledgeable without being a know-it-all; charming but not affected; commanding but not shrill," he said. "Also likeable, warm, authoritative, and not coughing. Meanwhile, Donald Trump had to not commit murder on camera." 
Trump's low expectations, however, couldn't save the real estate mogul from his own lack of preparedness for the debate, as well as his incessant sniffling — which soon become meme-worthy on social media. 
"Trump sounded like he was fighting off a cold," Colbert said. "With cocaine." 
Colbert went on to chide Trump's repeated use of "law and order" when talking about police violence in America — referencing the series Law & Order, and its signature gavel thump — and his "fat-shaming" of hackers ostensibly weighing 400 pounds. But the "biggest lie" of the night, according to the host, was Trump touting his temperament as his best quality, which drew a few laughs at the debate auditorium in Hofstra University. 
"Of course, we'll never know if his temperament is really his strongest asset, because he won't release his tax returns," Colbert concludes. "In the end, there was really only one word that summed up how this whole debate — this whole election — feels, and Donald Trump captured it:"
Watch the live segment from The Late Show below.