Trump lost the presidential debate, and the votes of makeup lovers everywhere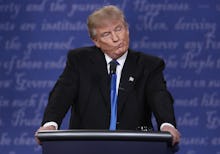 It's no secret that Republican presidential nominee Donald Trump has had a long love affair with bronzer. For years now, starting with his foray into television with The Apprentice in 2004, he has been transitioning from a pasty shade of white to a deep, unwavering and sometimes startling shade of brownish orange. 
Assuming that he's not just eating more carrots than usual, the public has decided that makeup must be to blame. 
So at the first presidential debate last night, as Trump faced off against Hillary Clinton, all eyes were on his face or, rather, his contour, meaning his bronzer or self tanner and also maybe a bit of highlighter he's been using on his cheekbones. 
The verdict? Not impressed. 
Immediately as Trump took the stage, Twitter weighed in on Trump's face. While some said his contouring skills needed some work...
...others noted that maybe it was his makeup artist to blame. 
"I had no idea Trump's make-up team watched RuPaul's Drag Race!" legendary drag queen Lady Bunny, who knows her way around a contouring brush, said in an interview. "Too bad he missed the episode on wig styling!" 
However, it could actually be that Trump himself decided to really slather on all that bronzer/self-tanner. Since the start of his campaign, there have been rumors that Trump often does his own makeup for debates and appearances, rather than allowing a makeup artist to go at it. 
But there's still the question: Why was Trump wearing such noticeable makeup? Why did he choose a debate like this to really go all out? 
In a previous interview with Mic, a professor of psychology noted that it could have to do with candidates like Trump wanting to appear healthy, and maybe more attractive. 
"Wearing makeup can have effects on perceptions of a person's trustworthiness, competence, and likability, among other characteristics," Dr. Jon Freeman, an assistant professor in the Department of Psychology at New York University, said in an email. "The utility of cosmetics for male facial appearance could include increasing perceptions of health and vitality, such as through evening out the skin."
And Trump's skin was even: an even shade of reddish brown. 
However, although some on Twitter remained unimpressed by his makeup, many were eager to find out what exactly he (or his makeup artist, if he decided to use one) was using. 
And for beauty blogger Jake-Jamie Ward, this attempt by a 70-year-old man was pretty commendable. 
"It's certainly not a 'no-makeup, makeup' look. I would personally opt for a bronzer that mimics the appearance of a real-life looking suntan," Ward said in an interview. "Donald is very orange-looking. However, I have to take my hat off to Trump! As an advocate for #MakeupIsGenderless, any 70-year-old man that publicly stands up and embraces the power of cosmetics would always deserve a high five in my opinion." 
Though how a person does their makeup certainly shouldn't be a deciding factor for anyone's vote, Trump may have learned something last night: Less is more.