Trump's 2012 lie about global warming was the most retweeted tweet of the debate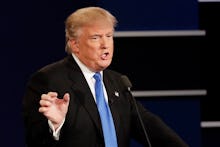 During Monday night's presidential debate, Donald Trump denied Hillary Clinton's statement that he believes climate change to be a hoax. And the internet brought out the receipts. 
"Donald thinks the climate change is a hoax, perpetrated by the Chinese," Clinton said on Monday. "I think it's real."
To which Trump swiftly responded: "I do not. I do not say that. I do not say that." 
Sorry, Trump. You did say that.
According to the Twitter Government account, this tweet was retweeted the most during Monday's debate. 
There was contention ahead of the debate as to whether or not moderator Lester Holt should be responsible for live fact-checking the candidates. While some viewers questioned the moderator's whereabouts while Trump interrupted Clinton a total of 28 times, Holt did successfully fact-check a few times. But where Holt waned, the internet retweeted. 
It's unsurprising that this candidate — who, when asked about how to combat cyber warfare in the 21st century, said his 10-year-old son is "so good with these computers it's unbelievable" — might be unclear on how things work in the digital wilderness.