With one Halloween makeup tutorial, this amputee is shaking up the beauty blogging world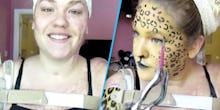 Up until last week, Kaitlyn Dobrow was just another beauty blogger. On YouTube, her few thousand followers had watched as she tried bronzer for the very first time or red lips and winged eyeliner. On Instagram, she posted selfies and previews of her upcoming tutorials. 
And for Halloween, she thought, as many beauty bloggers do, that it'd be fun to post a Halloween-themed tutorial on her Instagram, deciding to show her followers how to turn into a cheetah. 
That video has so far been watched more than 161,000 times. 
And that may be because there's something that sets Dobrow apart from her peers: She's a quadruple amputee, losing her limbs after contracting bacterial meningitis in 2013. In her tutorials, she holds onto the brushes and eyeliners and lipsticks with a prosthetic arm. 
Perhaps it was that inspiring feat alone that propelled Huda Kattan, the hugely popular and influential beauty blogger who has more than 15 million Instagram followers, to repost the video onto her account with the caption "Amazing."
On Kattan's account, the video has been viewed more than 1 million times, and Dobrow has gained thousands more followers who can now learn about her story. 
Before this video went viral, Dobrow had only been beauty blogging for about four months, after attending cosmetology school in Huntington Beach, California. In her first video, she explained that she's blogging for the same reason why others do too.
"I just love makeup," she says in her first video. "It's what I do, it's what I love, and it's a hobby of mine."
Her prosthetic arms and legs are just something she has to work with.
Dobrow's video comes at a time when women with disabilities are taking on the fashion and beauty industries more than ever before. 
Model Jillian Mercado, for instance — who was diagnosed with spastic muscular dystrophy at a young age — has starred in fashion campaigns, and Lauren Wasser, her lost her right leg to toxic shock syndrome, is now a New York Fashion Week veteran. In terms of beauty vloggers, there is Meag Gallagher, a quadriplegic whose cat eye tutorial went viral just a few months ago. And there is Jordan Bone, who revealed in December that she's a tetraplegic, partially paralyzed from the torso down. 
For all of these women, it's not just about the fashion or makeup, but making sure their fans see that, with enough determination, nothing can stand in their way.