Fox News' Brit Hume called Hillary Clinton "not necessarily attractive" after debate ended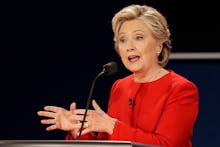 Political pundits are still parsing out the finer points from Monday night's presidential debate between Hillary Clinton and Donald Trump. Whether Clinton is "attractive" or not shouldn't be one of them. 
Yet that's what happened on Fox News' post-debate debriefing. While speaking to hosts Bret Baier and Megyn Kelly, On the Record's Brit Hume commented on the facial expressions each candidate made while listening to the other speak. 
That's when he stuck his foot right in his sexist mouth: Hume described Trump as "annoyed, put out, uncomfortable." But when it came to Clinton, he described her as, "for the most part ... composed, smug sometimes, not necessarily attractive." 
Given the unending barrage of sexism Clinton deals with every day, Hume's comments beg a sexist reading — especially considering he declined to comment on Trump's physical attractiveness when describing him as "uncomfortable." 
One thing is certain: Twitter users didn't give Hume the benefit of the doubt. Many on social media were firmly in the "this was sexist" camp:
Hume addressed these comments on Tuesday's edition of Fox News Channel's The Five. When co-host Juan Williams asked about the incident, Hume said he was "talking about demeanor" and not Clinton's looks. 
Just another day in the life of the first female presidential nominee from a major U.S. political party.
Sep 28, 2016, 1:48 p.m.: This story has been updated.