Denzel Washington and Viola Davis shine in the first, intense trailer for 'Fences'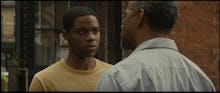 Tuesday, Paramount Pictures released the first trailer for Denzel Washington's feature directorial debut, Fences. The film, which stars Washington and Viola Davis, is based off the 1983 play of the same name written by August Wilson. Washington and Davis previously starred in the play's 2010 Broadway revival. 
Fences focuses on a retired African-American baseball player, Troy (Washington) in 1950s Pittsburgh, who is struggling to be satisfied with the life he's made for himself and his wife, Rose (Davis) and son, Cory (Jovan Adepo). The first trailer mainly focuses on Troy and his son talking about love and responsibility — with Troy's son openly questioning whether his father loves him.
"It's not easy for me to admit I've been standing in the same place for 18 years," Troy later tells Rose. 
The tension and emotion throughout the brief trailer is palpable in what's shaping up to be an early Oscar contender. Washington and Davis both won Tonys for the 2010 revival.
Watch the trailer for Fences, out in theaters Dec. 25, below.