Leslie Jones' tweets from the presidential debate were the best commentary of the night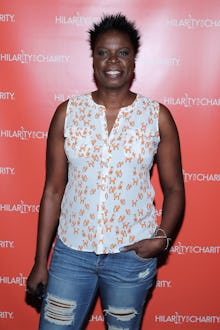 She's the comedian who conquered the 2016 Olympic Games and survived arguably one of the worst episodes of trolling in the history of the internet.
Now, we can add "A+ political pundit" to Leslie Jones' resume. 
On Monday night, the Saturday Night Live comedian and Ghostbusters star tracked the first 2016 presidential debate and offered the kind of honest commentary many political pundits wouldn't.
While some focused on whether or not Democratic presidential candidate Hillary Clinton was "attractive," Jones turned her attention to Trump's surly demeanor:
Jones also took the Republican nominee to task for his lack of substantive answers — and called him out for not remembering Reagan's economic plan:
Jones also criticized moderator Lester Holt for failing to make Trump stop interrupting Clinton when she spoke. As Mic previously reported, Trump interrupted or cut Clinton off 28 times during her allotted speaking time:
Jones also poked fun at Trump's boast that he's avoided paying taxes for years:
But she also kept her humor throughout, right up to and including the end of her Twitter storm, when she said she needed something to calm her down after the debate — like a screening of The Purge or Saving Private Ryan.
Same, Leslie. Same.