The ultimate (affordable) mattress buying guide: How to choose the best type for you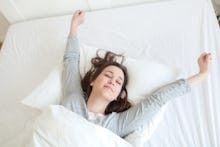 Some purchases are best made secondhand. Mattresses? Not so much.
Sure, Craigslist makes it easy to find a cheap used mattress, but that might mean dealing with bed bugs, dust, mold, mites or bodily fluids.
Let's be real: You're safest buying a spanking new mattress. 
Naturally, the $7 billion industry loves your conundrum. The product markup for a new mattress can be 40%, 50%, and even 100%.
Luckily, just a little homework will help you avoid overpaying — and make it easier to narrow down the very best mattress for your body and budget. Here's what to know.
Mattress buying tip 1: Study up on springs, foams and latex
People keep a mattress for seven years on average. Convenience is nice, but it pays to invest in durability, comfort and value.
Just like in your romantic life.
There are three main types of mattresses to choose from: innerspring, memory foam and latex. 
Innerspring is the cheapest mattress, with basic queens starting around $150. They are the most popular seller as 80% of mattresses sold today are innerspring. But people report less satisfaction with innerspring mattress than other type.
The innerspring has an internal coil core wrapped in fabric-covered layers, and has undergone little "innovation" since the 1800s, KeyBanc Capital Markets retail analyst Brad Thomas told Freakonomics Radio.
NASA-designed memory foam means a notch up in mattress comfort — ranked the most liked by sleepers — but can also be affordable if you shop around. Whether they are good for sex is another debate.
Prices range from $250 to $1,000 or more for luxury versions. And foam type matters: Traditional foam runs hot and both traditional and gel-infused foams can emit odors, while plant-based foam is cool, odorless, and especially responsive, but more expensive.
Latex mattresses have a rubber core, rather than springs, are rated highly (for satisfaction and sex) and are popular among those who shop eco-friendly. 
They are also the costliest, with entry queen models starting at $400 and higher. If you want to really geek out, read up on natural latex versus synthetic latex and dunlop versus talalay processing.
Mattress buying tip 2: Test drive at a mattress store. 
One of the good things about walking into a mattress store is the price is usually negotiable. Stroll into these shops for a test drive. Look, lay, touch and feel. But don't buy.
Remember that mark-up? A mattress that costs you $1,000 probably cost $200 to make, analyst Thomas told Freakonomics. If you seem interested but resistant to buying, salespeople may drop the price right there.
These stores may also try to entice you with a store credit card. This is very rarely a good idea, because the store card's APR can be very high and the benefits of the card are typically fair-to-middling. 
If you can't pay in full, better to use your own credit card, with a familiar interest rate, than to tangle with a financing a mattress through the store.
And if you're only at your first stop? It's best to walk out and comparison shop before pulling the trigger. 
Mattress buying tip 3: Find discounts online. 
If you loved a mattress in the store, see if you can find it for less at an online retailer like 1-800-Mattress, Overstock or US Mattress. Warehouse clubs like Costco and Sam's Club are also in the game.
There's also now a glut of new mattress-in-a-box online retailers offering free delivery and generous return trial periods and return policies; most roll up the mattress and ship it to you in a box.
The companies go by names like Tuft & Needle (starting at $600 a queen); Cocoon by Sealy (starting at $699 a queen); Yogabed (starting at $874 a queen); Lessa (starting at $890 a queen); Bed in a Box (starting at $849 a queen); Casper (starting at $850 a queen); and Loom and Leaf by Saatva (starting at $999 a queen). And that's just a handful. 
These small businesses are trying to disrupt the mattress industry, but it's still many Davids against few Goliaths: Heavy hitters Sealy, Serta and Simmons command the lion's share of the industry, together comprising more than 50% of sales.
Wherever you shop, remember there are cheaper and more expensive times to buy and retailers often schedule sales on Labor Day, President's Day and Memorial Day.