Trolls from the darkest corner of the internet are rigging online polls in Trump's favor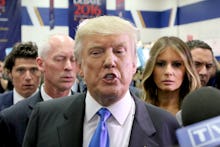 If you see an online poll declaring Trump the winner of Monday night's presidential debate, don't be duped — it could be the handiwork of 4chan trolls. 
As the Daily Beast pointed out on Tuesday, 4chan — a digital paradise of forums that cater to alt-right trolls — aimed to cheat the online polling systems of CNBC, Time, ABC News, the Hill, BuzzFeed, People, CBS, Variety and CNN to sway debate results in Trump's favor. 
Then, Trump flaunted these polls on Twitter as his declaration of victory. 
"CNBC poll is the most important, guys!" a user wrote on 4chan. "Get on it, we need to push past 50!" 
The 4chan users flooded the polls with Trump votes through the use of Airplane Mode Toggling. This involves switching airplane mode on and off to change your device's IP address so that you can essentially vote as many times as your heart desires. Other users also advised voters trying to game the system to open new incognito tabs repeatedly for limitless voting. 
"Reminder that all polls matter," a user wrote in all caps, linking to six online polls. "Let none survive."