Donald Trump and Hillary Clinton both say they will accept the outcome of the election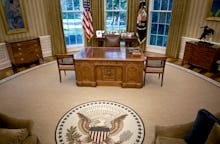 They are in a fierce fight for the White House, but no matter what happens on Election Day, both Hillary Clinton and Donald Trump said at Monday night's debate that they would accept the will of the American people.
During the first presidential debate at Hofstra University in New York, moderator NBC News anchor Lester Holt asked the candidates if they are "willing to accept the outcome as the will of the voters."
Clinton answered first and said she would. "I support our democracy," she said. "And sometimes you win, sometimes you lose. But I certainly will support the outcome of this election."
Trump was asked the same question. He talked about losing jobs and deporting people from the country. Holt asked again and Trump, who boasts that he likes winning, replied: "Look, here's the story. I want to make America great again. I'm going to be able to do it. I don't believe Hillary will. The answer is, if she wins, I will absolutely support her."
The last contested presidential election outcome was in 2000 between Democrat Al Gore and Republican George W. Bush. That election was not called until Dec. 13.