Whatever happened to the male supermodel?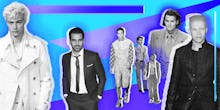 Back in the 1990s, models like Naomi Campbell, Cindy Crawford, Linda Evangelista and Christy Turlington ruled the runways, landed legendary advertising campaigns and starred in fashion advertisements seen around the world. They were the headline-makers. They influenced the fashion world's every move.
Alongside them were men like Marcus Schenkenberg, Tyson Beckford, Mark Vanderloo and Alex Lundqvist, who were similarly ubiquitous.
But while Naomi and Cindy paved the way for women like Gigi Hadid and Kendall Jenner now, the current fashion landscape is conspicuously bereft of male superstars.
"Male supermodels are rare, and even the top tier of the talent pool can fall short of the requirements," Vogue's Janelle Okwodu wrote in June. "For the most part, the male supermodels of the '90s are still active on the scene, but their successors are few and far between."
Those who regularly read fashion magazines might recognize people like Lucky Blue Smith, River Viiperi, Shaun Ross and Francisco Lachowski — the top male models currently working. But they are not household names in the way their predecessors were. We have male models, but no male "supermodels" who can claim the cultural cachet of men like Beckford, the first black man to model in Ralph Lauren advertisements in the 1990s.
"There are no male supermodels today. There are top models, but no male models who understand the power," model Shaun Ross, 25, who has modeled for Givenchy and Alexander McQueen, said in an interview. "It's not about how many runways you walk. To be a supermodel is to be a philanthropist. Tyson Beckford has exceeded the level beyond measure of the male model."
In an interview, Beckford told Mic that the difference between "model" and "supermodel" is that supermodels are people who are on TV just as much as they're on the covers of magazines.
"A model is someone who you don't know their name, but you know their face. You don't know anything about them," Beckford said. "But a supermodel, you know a lot. They're a celebrity."  
"A supermodel is a household name," he added.
But Beckford transcended just modeling.
"I was doing everything," Beckford said. "I was in commercials. I was popping up in music videos. I was in magazines. I was on sides of buses. I was on late night TV being interviewed. And then I was working with big brands like Ralph Lauren."
The supermodel era: Unfortunately, Beckford 2.0 doesn't yet exist. To understand why, one has to look back at the heyday of the male supermodel: the 1990s.
"The '90s were really the supermodel era," said Marcus Schenkenberg, who's been modeling since 1989 and was the face of Calvin Klein in the '90s. "Before that, male models were kind of like props to the women. Nobody cared about them. So that kind of changed at that time too."
What first encouraged this change were the clothes themselves. Nineties fashion, and particularly clothes from the early part of the decade, were big, bright, glamorous and overblown. The clothes had big personality, so having a model with a big personality made the clothes shine.
"The fashion was big and glamorous. It was excessive," Anya Kurennaya, a lecturer at Parsons in New York City focusing on fashion, style and pop culture, said in an interview. "The clothes were full of personality, and so there was an interest."
That interest, in turn, made fashion and television a fine pair. According to Kurennaya, in the late '80s and '90s TV first started taking an interest in fashion after seeing the larger-than-life personalities in the fashion world like Cindy Crawford, who became the host of MTV's House of Style, a TV show launched in 1989 that focused on the country's increasing obsession with supermodels. Prior to TV taking notice, you'd have to be an invited member of the press to attend a fashion show. With TV, the supermodels now had access to a larger audience than ever before.
"Fashion was merging with mass media and becoming more accessible and widely broadcast," Kurennaya said. "It was on display for mass consumption."
Female supermodels were also instrumental in ushering in the male supermodels of the era. Before the men could get attention, the women opened the doors. Beckford and Schenkenberg both concede that the female supermodels who broke onto the scene before them in the early '90s — Kate Moss, Naomi Campbell and Cindy Crawford included — made male supermodeling possible.
"It was a ripple effect," Beckford said. "We became supermodels because of the women. We were working alongside them, hand-in-hand. And when you shoot with a female supermodel, a few of them, then you become one of them and powerful like that."
Whenever a new campaign debuted, eyes were already on the women. Men got attention at first by mere proximity. It was almost like their fame rubbed off.
"You had the women, like Cindy and Linda and Naomi," Schenkenberg said. "All those girls were almost bigger stars than the movie stars. And that's when the top model guys also got a lot of recognition."
The end of the '90s male supermodel: What signaled the end of the male supermodel is precisely what helped usher him in: the clothes. 
As the '90s turned into the 2000s, brands and designers wanted models to be hangers in order to let the far less outrageous clothes of the time shine. If the '90s were an era of excess, the early aughts were an era of subtlety and simplicity — just look at the difference between Versace's menswear in 1992 and 2006.
"Designers wanted models to be invisible," Alex Badia, the style director at Women's Wear Daily, said in an interview. "That's when celebrities became the models. They just cared about eyes on their clothes."
While male supermodels once used their status to turn themselves into celebrities, brands and magazines in the new millennium looked to use celebrities' existing fame to draw attention to their brands and clothes. Justin Bieber replaced Marcus Schenkenberg in those Calvin Klein campaigns. Ryan Reynolds and Theo James replaced Mark Vanderloo in those Hugo Boss ads. Those men already have fame and a rabid fanbase, so designers and casting directors see them as an easy choice.
And the rise of social media provided yet another route to the modeling world. Take Cameron Dallas, who started out as a YouTube and Vine star. He just posed for Calvin Klein and landed a Teen Vogue cover. One year ago, Lucky Blue Smith was simply known as an Instagram star. Now, he's the face of Tom Ford.  
River Viiperi, a 25-year-old male model who's worked for Calvin Klein and Ralph Lauren, said that guys like Dallas and Smith have changed what's considered a model today.
"If you look at all that back in the day, it was all about going out and having a good time," Viiperi said in an interview. "Making sure the crowd is enjoying it. Now because of social media, it's less genuine." 
In addition to internet stars, the children of celebrities are having their moment in the industry as well.
To name just a few: Anwar Hadid, Bella and Gigi Hadid's brother, has modeled for Moschino and landed on the cover of Teen Vogue; Jaden Smith, Will Smith and Jada Pinkett Smith's son, is the face of Louis Vuitton and has appeared in Vogue Korea; and Brooklyn Beckham, the son of David Beckham and Posh Spice, shot a Burberry campaign and modeled for the New York Times' T Mmagazine.
Paradoxically, having male celebrities step into modeling might actually help renew interest.  
"The celeb kids come in and have all this attention and they're booking jobs and they're bringing more attention to the guys' market," Viiperi said.
Could the male supermodel era return? According to Badia, male supermodels are on the rise again, and it's all because of the male celebrities who have sparked renewed interest in men's fashion.
"We're having a major resurgence," Badia said. "There were no supermodels in 2005, but now they're creeping back. Cameron Dallas, first of all — he is a huge, huge, incredible social media presence. He was at the Calvin Klein show and girls were screaming. I see this hysteria happening."
Much as in the '90s, mainstream media has taken an interest, with major outlets like People writing about Lucky Blue Smith and the New York Times writing about Jaden Smith at Louis Vuitton. Once again, the men are riding the women's coattails.
"We're back in the '90s," Badia said. "Women like Kendall [Jenner] and Gigi [Hadid] are personalities. If you ever wanted to be a model, now is the time. They have incredible power and every single male model is trying to create their own brand exactly like them."
It's almost like history is repeating itself. The other factor that helped male supermodels become who they were is the fashion. Luckily, that appears to be swinging in the men's favor, too. Over the past several years, men's fashion has been increasingly studied and praised, with menswear designers like Hood by Air or Pyer Moss pushing the limits. There has also been the impact of clothing coming down the runway with no specified gender at all. In the past year alone, Gucci, Armani and Givenchy all had shows with men and women walking together, meaning that men have more opportunities to get their faces seen at fashion weeks around the globe.
So the stage is set. The only question remaining: Who will be first? Who will strive for a career that includes dominating fashion and, well, everything else like Beckford achieved 20 years ago?
According to Viiperi, men like Lucky Blue Smith are on their way to supermodel status because of their reputation, star power and reach beyond just fashion. Men like him could be the hero for male models who wish to enter the echelon of male supermodels.