El Cajon police shooting update: latest news on the death of Alfred Olango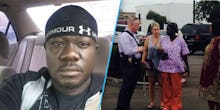 Police have yet to release the name of the unarmed black man officers shot and killed in El Cajon, California, but his family has identified him as Alfred Olango. The victim reportedly had a mental illness and died in the hospital, the 217th known black person known to have died at the hands of police in 2016.
Authorities were responding to three calls regarding a "subject acting erratically" on Tuesday afternoon, Lt. Rob Ransweiler explained in a press conference livestreamed on Facebook. They fired on the 30-year-old when he failed to comply with their request that he remove his hand from his pocket, according to a statement the El Cajon police department released Tuesday night. 
"The subject paced back and forth while the officers tried to talk to him," the statement read. "At one point, the subject rapidly drew an object from his front pants pocket, placed both hands together and extended them rapidly toward the officer, taking up what appeared to be a shooting stance."
According to police, one officer drew his gun while they "tried to talk to him;" another drew an "electronic control device." When Olango pulled his hand from his pocket, both officers fired their weapons, allegedly believing the victim to have been armed.
Witnesses confirmed that Olango did indeed have something in his hand, according to ABC 10, but not a weapon. As the Associated Press reported, one woman who posted a video of the encounter to Facebook told him, "Take your hand out your pocket, baby, or they're going to shoot you." 
"When he lifted his hand out ... he did have something in his hand but it wasn't no gun, and that's when they shot him," she continued. 
In a video recorded after the shooting, Facebook user Rumbie Mubaiwa said Olango's sister called the police to help her brother, but instead, they shot him. One witness told CBS 8 San Diego that Olango was having a seizure before officers opened fire. 
According to police, Olango did not have his hands raised when police fired, as some witnesses reported. The officers involved were not wearing body cameras — the El Cajon police department has not implemented a body camera program, but plans to — but investigators are working from a video voluntarily provided by a witness, according to the San Diego Union-Tribune. 
The specific officers involved in the shooting have not been named at time of writing, but according to ABC 10, "multiple sources" have confirmed that one was Richard Gonsalves, an officer with a somewhat problematic work history. As the outlet previously reported, a female El Cajon officer sued the department in 2015, alleging that she had been denied a promotion after participating in an investigation of Gonsalves. She was one of a number of women to whom he'd reportedly texted nudes, and the failure to promote her was allegedly a retaliatory move. 
The shooting sparked protest Tuesday evening, which in turn attracted police in riot gear. Those gathered at the scene shouted "black lives matter," according to footage tweeted by NBC 7 News reporter Ashley Matthews.