Adele's '25' goes diamond in a single year, putting it in the company of pop's greatest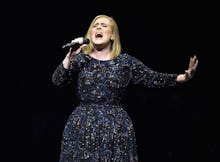 A year out from its release, Adele's 25 is still working miracles. Tuesday, Stereogum reported that Adele's record-breaking, soul-bearing new sold 10 million copies, officially going diamond. It's highest sales certification an album can receive from the Recording Industry Association of America (RIAA). It's a very rare one at that. Only 79 albums have accomplished that feat, one of those being Adele's previous 21.
Adele's label, which has been leaning on that album's success in a big way, presented her with a plaque backstage during her Sept. 22 concert. Adele is more than a random, global phenomenon — she's easily one of the most elite and accomplished artists in pop history.
The rest of RIAA's list offers a glimpse at some of music's most immortal releases from every genre — Michael Jackson's Thriller, 2 Pac's All Eyez On Me, Stevie Wonder's Songs in the Key Life — and a few inexplicable flash-pan hits, such as Creed's Human Clay. According to an RIAA representative who declined to comment specifically, but shared that only 8 female acts have earned two or more Diamond albums.
A few other noteworthy mentions, so you understand the significance of what we're dealing with here:
• Led Zeppelin — Led Zeppelin IV
With music gone digital and global, new albums rarely hit the hallowed list, let alone within a 10-month span. The last album to gain recognition was Nelly's Country Grammar in September, right in time to draw even more attention to his tax lien woes. It took that album 16 years to tally 10 million in sales, but queen Adele did it in less than one.
That shouldn't be entirely surprising considering the album's past achievements. In its first three days, it became fastest album to reach a million sales, and later it broke the record for highest total first week sales, moving at least 2,433,000 copies. 
The following week it sold another million, becoming the first album to move at least one million copies in two separate weeks. Adele's 25, with all its self-reflective quirks, is more than an album that's good for a lonely red wine-fueled cry. It's truly a force to be reckoned with.