Why does Donald Trump hate Rosie O'Donnell so much?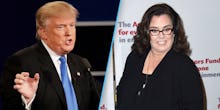 Over the course of his campaign, Republican presidential nominee Donald Trump has maintained an ever-growing list of targets: President Barack Obama, China, the media. But there's perhaps no one he hates with as much ferocity than comedian and TV host Rosie O'Donnell. 
But where did the animosity start — and how far back does it go?
During Monday night's Presidential debate, Trump rehashed his feud with the former co-host of The View after opponent Hillary Clinton raised his history of sexist attacks on women. 
"This is a man who has called women pigs, slobs and dogs," Clinton said, going on to discuss former Miss Universe winner Alicia Machado, whom he once called "Miss Piggy."
"You know, Hillary is hitting me with tremendous commercials," Trump shot back. "Some of it's said in entertainment. Some of it's said — somebody who's been very vicious to me, Rosie O'Donnell, I said very tough things to her, and I think everybody would agree that she deserves it and nobody feels sorry for her."
This isn't the first time this election season Trump has targeted O'Donnell from the debate stage. In an August GOP primary debate, moderator and FOX News host Megyn Kelly mentioned the candidate's past statements about women.
"You've called women you don't like 'fat pigs,' 'dogs,' 'slobs' and 'disgusting animals'," Kelly noted.
To which Trump responded, "Only Rosie O'Donnell."
On Monday, after hearing her name dragged into the national conversation yet again, O'Donnell spoke out on Twitter, calling Trump an "orange anus," and linking to a video that she calls "the 5 mins" the candidate "can't seem to get over."
The clip, from a 2006 episode of The View, show's O'Donnell criticizing Trump for holding a press conference about whether or not to "decrown" Miss USA Tara Conner after reports of her underage drinking and drug use surfaced.
"He annoys me on a multitude of levels," O'Donnell says in the clip. "He's the moral authority. Left the first wife, had an affair. Left the second wife, had an affair. Had kids both times, but he's the moral compass for 20-year-olds in America."
"Donald, sit and spin, my friend," she continued, to cheers. "I don't enjoy him."
O'Donnell also brought up the fact that Trump's empire began with money from his father, called out his multiple bankruptcies: "This is not a self-made man. ... He's gonna sue me, but he'll be bankrupt by that time."
Trump responded that same week telling People of his intentions to sue. "Rosie's a loser. A real loser," he told the magazine. "I look forward to taking lots of money from my nice fat little Rosie." 
The threats appear to have been empty, as there's no evidence that Trump actually sought litigation, but the two embarked on a yearslong back-and-forth which exposed Trump's penchant for mudslinging.
In 2014, O'Donnell told People his attacks were "the most bullying I ever experienced in my life, including as a child.
"It was national, and it was sanctioned societally," she said. "Whether I deserved it is up to your own interpretation."
But the bad blood has only continued to sour, and now Trump has his biggest platform yet. There was at least one moment of harmony, though, in the 10 years of animosity between Trump and O'Donnell — after her 2012 heart attack, Trump tweeted an unexpected get-well message.
The comment was likely shocking to anyone aware of the feud, but the most shocked was O'Donnell herself.