Rudy Giuliani called Hillary Clinton "stupid" for not knowing about Monica Lewinsky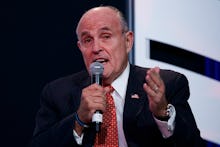 Following Monday night's debate — which commentators largely agree Hillary Clinton won handily — former New York City Mayor Rudy Giuliani had some thoughts on how he would've attacked the Democratic nominee had he been in Donald Trump's position. 
In video footage captured and reported on by Elite Daily writer Alexandra Svokos, Giuliani said he would have brought up Bill Clinton's affair with Monica Lewinsky — a talking point Trump said he avoided because Clinton's "daughter was in the room." 
The former mayor, though, said he would've gone for the attack — not just in an attempt to harm Clinton's popularity among women, but to point out how "stupid" she is.
"The president of the United States, her husband, disgraced this country with what he did in the Oval Office and she didn't just stand by him, she attacked Monica Lewinsky," Giuliani said in Svokos' video.
"And after being married to Bill Clinton for 20 years, if you didn't know the moment Monica Lewinsky said that Bill Clinton violated her that she was telling the truth, then you're too stupid to be president."
Giuliani has questioned Clinton's status as a feminist before, bringing up Lewinsky in August in a segment on Fox News.
"You tell me she's a feminist when she spent a great deal of time covering up a lot of the misdeeds of her husband and engaged in a lot of the attacks on the women who were telling the truth?" Giuliani told Fox at the time. "She's a feminist except where it comes to her husband where she attacks the women who are telling the truth about him."
Trump, on the other hand — who, during Monday's debate, doubled down on sexist insults targeting Rosie O'Donnell and interrupted Clinton some 28 times — is a model feminist, according to Giuliani. 
"Donald Trump is a feminist," Giuliani told Svokos in the video clip she captured. "I'm absolutely sure. I know Donald Trump for 28 years, women in his organization are paid the same as men. The president of his company is a woman ... Donald Trump treats people fairly."