"Registrarse para votar" was a top search query during Monday's presidential debate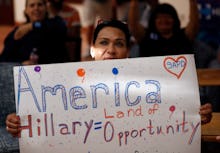 If ever there were an event to inspire Americans to make sure they're signed up to vote this November, it was Monday night's presidential debate. 
According to the Washington Post, watching Donald Trump and Hillary Clinton go head-to-head seemed to light a fire under Spanish-speaking viewers, who Googled "registrarse para voter" — "register to vote" — more than 100,000 times.
Looking at Google analytics, the Post found the searched term clinched the No. 3 "trending search" spot, an all-time high, as the debate wound down.
Throughout his campaign, Trump has struggled to win over the Latino vote — a voting bloc he's repeatedly alienated through calls to build a wall on the U.S.-Mexico border and his characterization of Mexicans as as rapists and criminals. 
A nationwide Pew Research Center study showed Clinton boasting a 66% to 24% advantage over Trump with Hispanic voters in July. Meanwhile, an August poll reported on by Univision shows in Florida, a key swing state for both candidates, Trump polled at just 12.9% support with Hispanic voters.
Coincidentally, last night's searches for "registrarse para votar" primarily originated in Florida.  
Google has rolled out Spanish-language voter registration guides specifically to accommodate searches like "registrarse para votar," "inscribirse para votar" or "como votar," according to TechCrunch — a change that reflects Latino voters' urgency to vote in the 2016 election.
"The main reason I want to vote this year is to put my voice out there for the voiceless," Esther Rivera, a Latino voter in Arizona, told USA Today. "There [are] a lot of people out there in my community who can't vote, but they want to. ... Just one vote can help a lot, as long as we try."