How do you make a famous food Instagram? Popular 'grammers share #tips and #secrets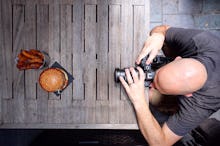 "Are you an influencer?" a man down the bar from me asked as I snapped a photo of my very-Instagrammable cheeseburger. "Nope, just a regular person," my far less than 5-digit-follower-count self said. 
"Well if you were, I would have invited you to my wedding, there'll be a 500-pound tuna," he said in total seriousness. He wanted a total stranger to Instagram his wedding buffet? #Weird. (Can't confirm that was his wedding hashtag, but it was probably close). 
The world of food media is ever-evolving, but a new strain of food media has recently entered the scene: influencers. Influencers — the term for a regular person who has an impact on a specific group —  often aren't professional photographers, journalists, bloggers or chefs, but those with a skill for filtering, hashtagging and collecting followers in the tens to hundreds of thousands. 
The privilege of having a popular handle? Free food. And lots of it. 
"Right when we hit 10K followers, we saw a big increase in PR invites," Greg Remmey of @DevourPower said in an email. "It's amazing what 1 letter [as in that covetable "K"] will do for you." 
It's common for influencers to get invites to food festivals, new restaurants, sponsored trips or old restaurants, when they are in need of free (or sometimes paid) advertising. "Since we receive so many invites now, we carefully pick and choose which events we go to," Remmey who often goes to network at events to promote @DevourPower's expansion into a marketing and social media management company, said. "If we actually said yes to all of the events we receive invites for via email or direct message on Instagram we would never sleep. The amazing food, delicious cocktails, and (sometimes) great views are just a plus!" 
Popular food hashtags are major
"The number one way to get gain engagement on your Instagram photos and profile is by hashtagging," Remmey said. With a total of 30 hashtags allowed per post, Remmey suggests writing them in a comment so it doesn't show on the caption. "It doesn't matter if you have a never-before-seen photo of Kanye West wearing one of his new sneakers on his head while also hugging Taylor Swift," he emphasized. "If you don't put any hashtags, only your followers will see it."
For those who want to build their Insta fame, be it in food, travel or other categories, Remmey recommends creating a list of the most popular hashtags mixed with some repost hashtags of accounts that will repost your photo with credit and attract more of their followers or use new hashtags. "The opportunity to share great content is endless on Instagram, but you have to do your research on related accounts and hashtags!" 
Making money on Instagram is possible, but don't quit your day job
Nina Joy, of @TheFoodJoy, runs her Instagram account to promote her recipe blog and show off food photos of restaurants she enjoys. She has a full-time job and spends her off hours cooking and shooting food, "which takes a lot more time than one would imagine," she told Mic. She brainstorms her recipes, cooks them, plates them, sets the scene, adjusts the lighting and then has an hour-long photoshoot when all the food is ready to go. Joy shoots about 100 photos of a dish, testing out different angles and getting a mix of long and close-up shots. 
At a restaurant, however, "I try not to take too much time shooting each dish mostly because I want to eat it before it gets cold," Joy said. (Another influencer recently recounted that she couldn't remember the last time she ate a hot meal.) "I've learned to be 'in the zone' and have my peripherals on block when I'm at a restaurant to avoid the strange looks I get from the other customers when I'm having a mini photoshoot at my table," Joy said. "I typically leave the restaurant with about 150 photos of anywhere between 4-10 dishes." That's a lot of work for one 'gram. 
Light > food
"Every good food photographer knows that natural light is the golden key to a great photo," Joy said. "At home, have two LED large lights that I use to create good lighting. I have a smaller handheld LED light tool that I bring with me to restaurants — and try not to cause a huge scene when using — to combat the dark lighting inside." It's dedication that gets the shot. "We always take the food outside, sometimes in the street into on-coming traffic..." Remmey said of @DevourPower's lighting strategy. 
While the free photo editing app Snapseed is popular with influencers, many said that they try not to edit too much or make their food look filtered —it's all about the light and the original photo, shot on either iPhones or DSLR cameras. 
 Okay, it's really all about the (free) food 
"I'm really humbled by the events and experiences I gain access to as a food blogger in NYC and beyond," Joy said of her account opening the door to another side of the restaurant industry: the perks.  "I get invited to restaurants all across NYC for a menu tasting, pre-launch parties, special collaboration events and more in return for posting a photo on my Instagram account."
Leigh Shirvan of @HungryObsession said that an event at New York's Breads Bakery has so far been the coolest experience she's had since becoming an influencer. "They had about 15 influencers at their location in Union Square and we were welcomed with wine glasses with our names on them and a spread of Israeli appetizers," she said in an email. 
We were then give a tour of the cooking facility, along with a demonstration of how some of their cakes are made by their lead pastry chef. After doing some of the baking ourselves, we were given a complete dinner spread including an assortment of vegetable salads, freshly made breads and hummus. We then watched our challahs go in the oven and saw how quickly it took to bake them. As we were leaving, we were given gift bags with our own challahs, babka and assortment of sweets made at Breads Bakery, along with any leftover dinner foods that we wanted to take home.
And though influencers are treated to many memorable nights, entire weekends can also be dedicated to the art of influencing. "The coolest event we attended so far was the Buffalo Wing Festival in Buffalo, New York," Remmey said. @DevourPower covered the event for Barefoot Wine's social media and ate "a lot" of wings. 
Plus, you'll make near-instant friends 
Social media, after all, is called social for a reason. "Our favorite part about going to events is being able to share our experience and the overall atmosphere with our followers on Instagram and Snapchat," Remmey said. 
Joy was also enthusiastic about her access to in-person networking. "Being invited to events with other influencers has truly been the most rewarding part of my journey so far as I've met some incredibly talented people that many I now call my friends," she said. "A few of us have actually created a shared account called @IGfoodfam that captures the funny 'behind the scenes' of being a food influencer!" 
#Yum