'Stranger Things' star Gaten Matarazzo opens up about living with rare genetic disability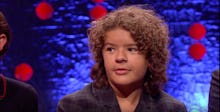 Stranger Things star Gaten Matarazzo opened up about living with a rare genetic disability during an appearance Saturday on The Jonathan Ross Show. Matarazzo has cleidocranial dysplasia, which affects the growth of his teeth and bones. As he notes in the interview, he only has baby teeth — the rest are fake — and he was born without collar bones. 
Matarazzo said:
I have a really mild case and a lot of people have it much worse than I do. I feel like putting it into the show is really raising awareness for it, and I'm lucky that mine was very mild. But now that it's in my genes, which it usually is passed down through genes — it wasn't for me, it just happened. So now that it's in my genes, I have a 50 percent chance of passing it down in my genes and it could be much worse for them.
Matarazzo previously said in a radio interview with BBC Radio 5 that he's been rejected from 100 roles and took two years to get his first part — in part, because of his disability. 
"It was always because of my lisp and me being shorter and having the teeth issue meant writers couldn't write in my disability because they had already written the script," he said.
But with an adorable lead role in Netflix's Stranger Things, which has already been renewed for a second season and gained a passionate fandom, Matarazzo shouldn't have issues with casting calls in the future. 
Watch Matarazzo's interview — alongside fellow Stranger Things actors Millie Bobby Brown and Caleb McLaughlin — on The Jonathan Ross Show below.