iPhone 8's biggest rumored feature was just revealed — by a Chinese competitor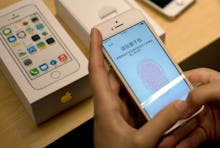 Tired of fiddling with your iPhone's Touch ID to get your fingerprint perfectly on the sensor? Apple may implement a solution for that when the iPhone 8 launches in 2017. But if the company introduces a more accurate fingerprint scanner to the American market next year, it'll have been beaten to the punch by a competitor in China.
Xiaomi, a Chinese smartphone maker often dubbed the "Apple of China," recently unveiled the "ultrasonic" fingerprint scanners for its new devices, the Mi5s and Mi5s Plus. A video, released on Tuesday, demonstrates the new technology, which is located on embedded home buttons that resemble a recent Apple patent for its own Touch ID. 
That patent, reported by Patently Apple, could lead to an iPhone 8 (or later model) capable of "calculating finger touch locations based on a fingerprint image generated by the transparent finger touch sensor region." Apple says this scanning technology is "the most accurate" and "able to penetrate the live layer of the skin."
How it works: Apple's ultrasound reader would process finger touches through transducers in a glass plate, which scan the finger's emitted ultrasound waves and "measure the alteration in wave patterns," according to the patent.
The inclusion of the aforementioned glass plate makes sense in conjunction with the rumors of an "all-glass" display appearing in future iPhones. 
Still, with Xiaomi officially unveiling the new fingerprint scanner, we now know the technology is possible. And if Apple wants to hold onto its customer base in China, it'd be smart to include the update with the iPhone 8.