iPhone 8 release date and availability: Here's when you can buy Apple's next device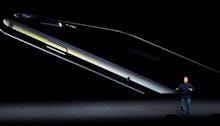 The iPhone 7 is barely out, and disappointed Apple fans are already starting to rev up the iPhone 8 hype engine, amalgamating alleged leaks, specs and design rumors into artists' renderings and YouTube videos, well ahead of the device's likely September 2017 release date.
Why all the hype? 2017 will be the 10th anniversary of the original iPhone. Yep, it was almost a decade ago (Jan. 9, 2007) that Steve Jobs unveiled the industry-altering gadget. Because the iPhone 7 doesn't have many big improvements over the iPhone 6s, it's fair to guess that Tim Cook and Co. are saving a massive, Earth-shaking overhaul for next year. The iPhone 8 release date will likely be in September, when iPhones are usually introduced. Availability will probably be a few weeks after that.
What will the phone of the future look like? If you're OK with falling out of love with your iPhone 7, get ready to start salivating over these rumored iPhone 8 features: flexible OLED display, rimless all-glass body, futuristic fingerprint sensor (bye-bye, home button?), wireless charging and even an iris scanner, like what's available on the Samsung Galaxy Note 7. 
Check out this video from ConceptsiPhone and start drooling.