2016 presidential polls: In wake of debate, Trump and Clinton locked in tight race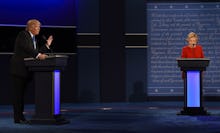 It is still too early to know how the debate will affect polls in the presidential race between Hillary Clinton and Donald Trump.
But new polling out on Tuesday suggests the race between the two remained tight heading into the debate. A new Los Angeles Times/USC Tracking poll put Trump up three points over Clinton nationally. Another poll in North Carolina gave Clinton an edge over Trump in that crucial swing state. FiveThirtyEight's election forecast now gives Clinton only a 55.4% chance of victory. At the beginning of September, it was more than 70%.
Most pundits and journalists believed Clinton roundly won the debate against Trump. Two focus groups and a CNN/ORC poll of debate viewers agreed. The CNN poll was the only semi-scientific poll conducted of debate viewers.
But Trump argued otherwise, citing unscientific online polls that say he won the face-off. Trump and his supporters, including Fox News' Sean Hannity, tweeted about them frequently on Tuesday.
The next presidential debate will be Sunday, October 9 at Washington University in St. Louis. The earliest polls to reflect voter opinions of Clinton and Trump following Monday's debate should be available later this week.