Tyson recalls 132,520 pounds of chicken nuggets for potential contamination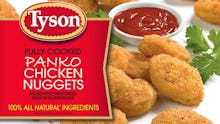 Looks like we're having fish sticks tonight. 
On Tuesday, the U.S. Department of Agriculture announced a major recall by Tyson Foods Inc. Approximately 132,520 pounds of cooked Panko Chicken Nuggets were pulled for potentially being contaminated with hard pieces of plastic. 
The specific items include a five-pound packages of "Fully Cooked Panko Chicken Nuggets" that have a "Best If Used By" date of July 18, 2017 and case code 2006SDL03 and 2006SDL33 and 20-pound bulk packages of "Spare Time Fully Cooked Panko Chicken Nuggets, Nugget Shaped Chicken Breast Pattie Fritters With Rib Meat" with a production date of July 18, 2016 and case code 2006SDL03, so scan the packages in your freezer for these markings. 
The USDA advises consumers who have bought these products to either discard them or return them to the retailer at which they were bought. 
So how exactly do chicken nuggets get packaged with plastic? Tyson told the USDA the contaminant that caused the recall may have come from a plastic rod that connects the transfer belt during production. While the products are passed through a metal detector for safety, the device cannot detect plastic contaminants, Tyson said. 
While no one wants this little extra gift in their nuggets, no illnesses or complications have been reported as a result of this mix-up thus far. 
Tyson is the largest producers of chicken in the world, and distributes meat to both KFC and McDonald's restaurants. Its massive scale means a lot of nuggets, yes, but it also means a lot more "incidents" than one would like to think about. 
According to a 2015 report by Celeste Monforton, a professor at George Washington University, Tyson averaged one employee amputation per month, which included lost fingers, tips of fingers, thumbs and, in one horrific case, the loss of both hands. 
All that puts finding a piece of plastic in your chicken into perspective, huh?