Serena Williams just addressed the policing controversy in a powerful Facebook post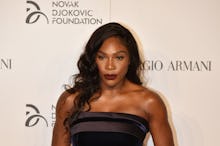 Tennis megastar Serena Williams hasn't been afraid to speak out against injustice in the past: She's called out sexism against women in sports and discussed the racism she's faced over the course of her career. But on Tuesday, she shared a deeply personal Facebook post, expressing the fear she feels for the lives of her own family members in the face of police violence against black Americans.
"Today I asked my 18-year-old nephew (to be clear, he's black) to drive me to my meetings so I can work on my phone," she wrote, in a post shared late Tuesday afternoon. "In the distance, I saw [a] cop on the side of the road. I quickly checked to see if [my nephew] was obliging by the speed limit."
But then, Williams continued, she recalled "that horrible video of the woman in the car when a cop shot her boyfriend," apparently referring to Philando Castile, whose fiancée recorded the moment he was fatally shot by police during a traffic stop.
"All of this went through my mind in a matter of seconds," wrote Williams. "I even regretted not driving myself. I would never forgive myself if something happened to my nephew. He's so innocent. So were all 'the others.'" 
"Why did I have to think about this in 2016?" Williams wrote. "Have we not gone through enough, opened so many doors, impacted billions of lives? But I realized we must stride on — for it's not how far we have come but how much further still we have to go."
Williams' Facebook post comes in the wake of protests in Charlotte, North Carolina, that broke out after the fatal police shooting of Keith Lamont Scott. Less than a week earlier, Terence Crutcher, an unarmed black man, was shot and killed by police in Tulsa, Oklahoma.
In her post, Williams explains why she felt she had to speak up: "I had to take a look at me. What about my nephews? What if I have a son and what about my daughters?" 
Williams ended her Facebook post with a quote from Martin Luther King Jr. and signed her post: "I won't be silent. Serena."
Read the whole post below: