Colin Kaepernick calls Trump, Clinton "proven liars," puts twist on Trump's slogan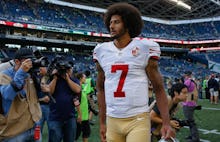 San Francisco 49ers quarterback Colin Kaepernick, whose decision to take a knee rather than stand during the national anthem at NFL games in protest of systemic racism has inspired both expressions of solidarity from fellow players and vitriolic criticism including death threats, had some harsh words Tuesday for the two major-party nominees.
Asked about his impressions on Monday's debate between Republican nominee Donald Trump and Democratic nominee Hillary Clinton, Kaepernick said, "I watched a little bit of it, to me it was embarrassing to watch that these are our two candidates," the Mercury News reported.
"Both are proven liars and it almost seems like they're trying to debate who's less racist," Kaepernick said. "At this point, in talking to one of my friends, you have to pick the lesser of two evils, but the end is still evil."
Kaepernick also singled out Trump for suggesting the football player find another country to live in, telling reporters, "That's a very ignorant statement, that if you don't agree with what's going on here and if you want justice and liberty and freedom for all, that you should leave the country."
He added Trump "always says, 'Make America Great Again.' Well, America's never been great for people of color. And that's something that needs to be addressed. Let's make America great for the first time."