Wells Fargo CEO John Stumpf loses over $41 million amid scam inquiry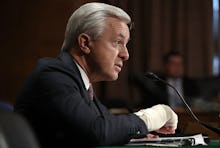 John Stumpf, the chairman and chief executive of the nation's third-largest bank Wells Fargo, received Tuesday a roughly $41 million slap to the face along with another top executive amid an investigation into whether the banking giant deliberately scammed millions of U.S. customers.
According to the Wall Street Journal, the Wells Fargo board voted to rescind benefits for Stumpf including $41 million in unvested equity rewards, as well as forgo his annual salary during the course of the board's investigation into the scandal, and will also forfeit his 2016 bonuses. Former community banking head Carrie Tolstedt will also forfeit $19 million in unvested equity rewards and her annual bonus.
Stumpf is accused of overlooking, and Tolstedt of directly supervising, the activities of the community banking division, which illegally created some 2 million accounts without customers' consent as a pretext to scam the bank's clients with bogus fees and penalties.
According to CNN Money, Consumer Financial Protection Bureau regulators say some 5,300 employees of the division opened over 1.5 million deposit accounts for the purpose of shifting customers' money into them, then charging them overdraft fees when they tried to charge their original accounts. They also opened 565,443 credit card accounts "without their customers' knowledge or consent," then using those bogus credit cards to rack up payments in the form of "annual fees, interest charges and overdraft-protection fees."
As a result of the allegations, the bureau fined Wells Fargo $185 million on Sept. 8, the largest fine in the agency's history.
Unfortunately, while Tolstedt has agreed not to exercise an additional $34 million in stock options until the outcome of the board's investigation, CNN Money reported she owns an additional $43.3 million in stock the board didn't touch — meaning she could walk away with a massive fortune regardless of that inquiry's outcome.
Stumpf stands to walk away with potentially much more money, in keeping with a financial industry that still affords many executives accused of culpability in misconduct lavish rewards. In May 2016, the Journal noted that over the seven years following 2009, authorities launched just 156 criminal and civil cases, with 81% resulting in no identification or charges, and just five contested cases resulting in rulings for the government.