Shimon Peres, former Israeli prime minister and president, dies at 93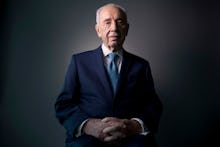 Shimon Peres, Nobel Peace Prize winner and former Israeli president, prime minister, Knesset member and minister of 10 ministries, as well as one of the few remaining elders in the nation's political class involved in its 1948 founding, died at the age of 93 at approximately 3:00 a.m. local time in Tel Aviv, reported the Times of Israel.
On Sept. 13, Peres suffered irreversible brain damage from a stroke, with medical personnel subsequently putting him in an induced coma.
As the Jerusalem Post wrote, Peres was Israel's longest-serving public official, with a 68-year-long career directing facets of government operation from defense and the military to foreign affairs and transportation. He served as prime minister from 1984 to 1986 and 1995 to 1996, as well as a brief stint as acting prime minister in 1977. Peres additionally served as the Israeli president from 2007 to 2014.
"Ironically, though Peres ran for office five times from 1977 and 1996, he never won a national election outright," the paper added.
While Peres became a widely popular figure in Israel in his later years, for much of his career he was viewed as politically divisive. He cultivated an international reputation as a peacemaker, backing peace negotiations with Palestinian officials including the Oslo Peace Accords of 1993 and 1995, the first round of which contributed to him sharing the 1994 Nobel Peace Prize with Prime Minister Yitzhak Rabin and Palestinian leader Yasser Arafat.
However, he was never able to truly escape criticism of his role in the creation of Israel's military-industrial complex, including the country's nuclear program, and early support of Israeli colonization of previously Palestinian land.