Alfred Olango shooting: El Cajon police kill man with reported disabilities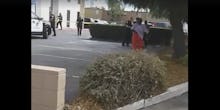 Police in El Cajon, California, fatally shot a black man who some witnesses said was unarmed, had mental disabilities and had his hands up in the air, NBC 7 San Diego reported on Tuesday evening, spurring protests even as authorities disputed the circumstances of the shooting.
Although authorities have not officially released the man's name, a relative identified the victim as 30-year-old Alfred Olango. 
After initially declining to provide any updates on the condition of the man, El Cajon Police released a statement later in the evening confirming Olango had died from his injuries.
According to NBC 7 San Diego, authorities say officers responded to reports of an "erratic subject" who refused to comply with orders at a public shopping center in the city. At least one officer subsequently opened fire.
In the statement, authorities said the man "rapidly drew an object from his front pants pocket, placed both hands together and extended them rapidly toward the officer taking up what appeared to be a shooting stance," resulting in two officers simultaneously firing both an "electronic control device" and a firearm at him. They also released a frame from a video of the incident.
El Cajon Police spokesman Rob Ransweiler declined to comment on whether the man was armed to NBC 7 San Diego.
Witnesses offered the station varying accounts of the shooting, with one saying one of the officers involved fired at least five rounds, and others saying the man either had his hands out to his side or up in the air.
A woman with the Facebook username Rumbie Mubaiwa uploaded a live feed to the site, in which a woman identifying herself as the man's sister can be heard saying "Oh my god, you killed my brother ... I just called for help and you killed him."
The same family member told police the man shot had mental disabilities.
On the official El Cajon Police Twitter account, the department urged "the community [to] please be careful about reacting to inaccurate information."
According to the San Diego Union-Tribune, El Cajon authorities have ordered, but are not yet equipped, with body cameras.
In a separate live feed from ABC 10 reporter Emily Thode, officers with riot gear and dogs congregate as a sizable crowd forms around the scene of the shooting later in the evening.
"Is this what my tax dollars pay for?" one man could be overheard saying in the video. "It ain't right," another adds. "And y'all know it. ... I'm a black man in America just trying to live life. ... It's still prejudiced out there, and why they gotta do him like that? For what reason?"
Some of the protesters chanted "black lives matter," the slogan popularized by the anti-police violence movement of the same name.
Mental health is a growing concern for police reformers trying to stop excessive use of force. Police officers who haven't been trained to deal with those with mental illness are often the first responders to mental health crises.
Last year, a Washington Post investigation found that a quarter of the 462 people killed by police gunfire in the first half of 2015 were dealing with a mental or emotional crisis. During the first presidential debate on Monday night, Clinton specifically called out mental health as an issue police are ill-prepared to deal with.
"Mental health is one of the biggest concerns because now police are having to handle a lot of really difficult mental health problems on the street," Clinton said.
In July, a man with autism who wandered away from his group home was confronted by police, when someone called 911 to report a suicidal man with a gun. His behavioral therapist, Charles Kinsey, rushed out to help the man with autism, and was shot in the leg while lying on the ground with his hands raised.
"All he has is a toy truck," Kinsey shouted at police shortly before they opened fire. "A toy truck."
The next day the autistic man Kinsey tried to protect returned to the scene of the shooting, pounding the ground where the blood dried on the concrete, crying and shouting.
Mathew Rodriguez and Jack Smith IV contributed additional reporting to this story.
Sept. 28, 2016, 5:56 a.m. Eastern: This story has been updated.