6th-grader Reese Franyo was shamed for wearing a skirt her teacher said was for "clubbing"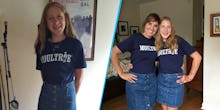 Another day, another girl pulled out of class and shamed because her outfit was deemed inappropriate by her school. 
This time, the case involves a skirt that actually falls well within the girl's dress code, though her teacher said that it looked more like it was for "clubbing." The girl in question, Reese Franyo, is 12 years old. 
In a Facebook post that's now gone viral, Reese Franyo's mother, Suzie Webster, recalled the ordeal in detail, starting with how her daughter was pulled out of class into the hallway and then humiliated in front of her peers.
At time of writing, the post has been shared 1,100 times and has more than 200 comments.
"I found out that Reese was called out in the hallway surrounded by other kids and told to go to the office because her skirt was too short and needed to be replaced," Webster, who lives in South Carolina, wrote. "Also, the teacher told her she looked like she should 'be clubbing.' What? I don't know too many women who wear a boxy T-shirt and an A-line preppy denim skirt to go clubbing." 
"I felt that it was madly inappropriate for my daughter to be humiliated in front of other students and if there was concern about her meeting the dress code there was a more tactful way versus a public shaming," she continued.
When Webster arrived at the school with a change of clothes, Franyo had to stand in front of the school's principal and have her mother measure the length between her knee and the end of the skirt. According to the dress code, the skirts are supposed to be at most 5 inches above the knee, and Franyo's skirt was just that. 
"He did tell Reese she could continue to wear the skirt, however at this point she was so embarrassed that she asked to change into her pants and told him she would not wear the skirt again," Webster wrote.
But wait, there's more. While her daughter was changing, Webster says, the principal explained why it's so important to monitor what girls are wearing more than boys: because guys get distracted.
Reminder: Reese Franyo is 12. 
"While Reese was changing, her principal ... started to explain to me that it was necessary to closely monitor the girls attire because boys at this age get very distracted by the girls and their appearance," Webster wrote. "So in order to control this, they needed to make sure the skirts were long enough, etc. So my daughter was embarrassed, humiliated in front of her peers and made to feel like a bad girl because boys can't control their dirty thoughts." 
And this is certainly not the first time "boys getting distracted" has been ruled reason enough to remove a girl from a class. Stephanie Dunn, a 16-year-old from Kentucky, was disciplined in 2015 for wearing a shirt that showed off her collarbones, a style that could "distract [her] male classmates," Dunn's mother suggested in a Facebook post.
In a statement released to Today, a spokesperson for the Charleston County School District noted that the school's principal, Ryan Cumback, has "addressed and corrected" the teacher who made that "clubbing" comment.
"In no way do we want any student to feel it's their fault in how someone views them when it comes to what they wear," the school district told Today. "However, in this situation, we do not feel Principal Cumback intentionally set out to embarrass the student. He never told her, nor her parent, she could not wear the skirt. He did ask the student to be cognizant of the skirt going above the 5-inch line when walking and sitting."
So before wearing a skirt, girls should do an entire gymnastic routine.
A long history of sexist dress codes: Franyo now joins a legion of young women who have been reprimanded and removed from their classes, or even buildings, because of what they've been wearing. In the past year alone, a high schooler was sent home from school for wearing a skirt that hit just 3 inches above her knee and another high schooler was reprimanded because she was wearing leggings with a long cardigan. (And that's just some of the instances we know about.) 
Luckily though, Franyo is backed by an army of people who are also sick of things like this happening time and time again. In schools across the country, students have started to stage protests. At another South Carolina school, pupils started wearing the letter A in reference to The Scarlet Letter. 
And then there's also the comments section under Webster's post, which is filled with notes like "this bullshit is so infuriating."
As 2016 is winding down, it's hard to believe that things like this just keep on happening.