Bon Iver doesn't want to explain '22, A Million,' but he doesn't need to. It's beautiful.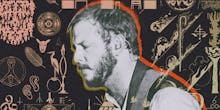 Nine years ago, Bon Iver's Justin Vernon set the standard for what folk music should sound like with For Emma, Forever Ago. Friday, he will break it.
That's when Bon Iver's mysterious third album, 22, A Million drops via Jagjaguwar following five years of relative silence. As previews of tracks "22 (OVER S??N)" and "10 d E A T h b R E a s T ? ?" have already shown, fans looking for lead singer Vernon's wind-like falsetto singing about ripe countrysides and winter's intimacy will find themselves disappointed and confused.
Where Bon Iver's past two records have evoked a man content in his Thoreau-like reclusiveness, 22, A Million seems like a portrait of a man after the isolation has driven him mad. Instead of familiar places or pet names, the tracklist features obscure symbols and numbers scattered alongside art that's proved irresistible for Illuminati pop culture conspiracy theorists. Snippets of pitched dialogue punctuate the uneasy ambience the songs stir up with warped, lo-fi drums and stacks of heavily processed synths and saxophones. It sounds like Bon Iver fed through a wood chipper and sewn together on a back alley operating table.
"It's this thing of wanting to bash things apart and break through some stuff," Vernon explained during a Sept. 2 press conference in his hometown of Eau Claire, Wisconsin. "The old records are of this kind of sad nature — I was healing myself through that stuff."
But looking past the song's Zodiac Killer appearances, fans will find Bon Iver's most stirring creations yet. It's dissonant yet delicate; the artist builds each track out of shards of melody that should not hold together but do — beautifully. A coherent ambition connect the 10 tracks on 22, A Million : to craft something exquisite and lasting out of chaos. It is a different sort of healing from Bon Iver's early albums.
When Vernon describes his earlier music as "healing," he means it literally. Bon Iver's first record was famously born out of an extended convalescent stay in an isolated cabin in Eau Claire. Vernon was bedridden with mononucleosis hepatitis when he recorded a series of plaintive demos under the name Bon Iver (a deliberate misspelling of the French words for "good winter"). Once blogs heard the recordings and started to lavish praise on them, Vernon scrapped plans to shop the demo around and re-recorded it. The demos were collected onto an LP For Emma, Forever Ago. Following a brighter EP Blood Bank, and a bolder, more richly orchestrated follow-up Bon Iver, Bon Iver, Vernon became a poster boy for the new indie.
"Things just got a little big, kinda real quick," Vernon said during the press conference. "Even though it was taking years, it was just a little strange. I had to back off. It didn't match up."
22, A Million seems in part an attempt to repudiate mainstream attention. The lyrics of "33, 'GOD'" offer a sardonic nod to this underlying motivation. "Is the company stalling?" Vernon sings over stabbing piano chords and chipmunk-speed samples. "We had what we wanted: your eyes." But Vernon doesn't want eyes and ears. He wants something more intimate: "With no word from the former/ I'd be happy as hell, if you stayed for tea."
The most basic analogy for the sound is that it's attempting to do to folk what Kanye West attempted to do to hip-hop with Yeezus — a record Justin Vernon helped 'Ye record. Both albums take the frameworks and clichés of their genre, but swap out the pleasantries for brutalities and dissonance. Both albums reflect the artist's creative frustration.
But 22, A Million's crackling electronics don't make the songs feel cold or distant. They make the album feel — painfully, instructively — more human.
The songs meander and break off, questioning themselves the same way people do while trying to figure out if they're saying what they truly mean. "No, that's not how that's supposed to feel," Vernon scolds on "666 ?" (articulated: "666 upside-down arrow") between brief bursts of thundering drums. But the songs redirect themselves. It doesn't matter if the music or the questions don't make sense. "It's not for broader appeal," Vernon sings. "Fuck the fashion of it, dear." 
Similar to Frank Ocean's Blonde, the songwriting cultivates moods first, then introduces melodic moments later. The thunderingly lo-fi, garbled percussion of "10 d E A T h b R E a s T ? ?" intensifies the aggressive commands of the lyrics: "Darling don't make love/ Fight it." The first few times Bon Iver interjects with "it might be over soon" on "22 (OVER S??N)" feel jarring at first, but slowly build into a satisfying base for an easy saxophone solo and Vernon's searching lyrics.
The album follows a trajectory from brokenness to wholeness. The penultimate track, "____45____" provides the first and only recorded glimpse of Bon Iver's non-falsetto, non-layered singing voice. The last, "00000 Million," provides a glimpse at Vernon's simpler, more coherent folk with an anomalous Fionn Regan sample — "the days have no numbers" — tossed in for good measure.
The album's opening snippet was one of the first hints about what the album would sound like. Vernon recorded it in the midst of one of the deepest points of his disillusionment, while on a Greek island trying to find himself.
"I was incredibly bored and kind of panicking a lot walking around this town for like a week in the middle of the ocean. I was just kind of wrestling with the fact that I felt really poor at that time," he said at the press conference. "I just kinda got back to my room, and was humming this on the way home, like, 'It might be over soon.'"
He sang the line into his OP-1, a portable sampler he used to record much of the album. The name of the album came from that loop, which he played with for months before other song ideas started to come.
"When you chop up part of the sample it sounded like 'two, two,'" he said, adding 22 was always his favorite number. "I always thought it reminded me of a duality and a paradox, every-coin-has-two-sides kind of thing." The words of the refrain seem to capture that duality: "Like 'Oh no, I want it to last forever,'" Vernon intoned, "and like 'It might be over soon. Thank you, God. I really don't want to feel this way anymore.'"
That was about as far as Vernon was willing to go into explaining the album's numerology and flippant religious iconography, which includes a body crucified upside-down. "This may sound like a lie — it probably is — but it's not supposed to mean anything," Vernon said. It seems to be more about the feeling such inscrutable cryptography tends to inspire. The deconstruction of religious symbols is all part of making his "naughty record," as Vernon described it.
Hearing him utter those words in his thick Minnesotan accent, an odd but strangely satisfying connection pops to mind: Prince. Another Midwest native who blurs the line between the sacred and profane, Prince spent much of his career working to build the mystique Vernon's now sampling.
Both artists have shown love and support for their Midwestern hometowns. Their albums are largely self-written and self-played, with Bon Iver boasting a very Prince-like "all played and written by Justin Vernon" in the liner notes of 22, A Million. Vernon's music has little of the maddening sex-appeal that characterizes all the best Prince, but 22, A Million has a bit of dad-bod sexiness. The way it splices religious iconography with bodily turns-of-phrase (one of Vernon's best moments: the "Fuckified!" lyric on "10 d E A T h b R E a s T ? ?") feels very Prince.
To bolster his examinations of God and the soul, Vernon draws on gospel, much as Prince did, to hone a reverent edge to his sound. There's a key Mahalia Jackson sample in "22 (OVER S??N)" that sums this up perfectly — "And I'm gonna shout all my trouble over." Vernon's liner notes also dedicate the album to Bernice Johnson Reagon, civil rights activist and founder of the gospel a capella group Sweet Honey in the Rock.
"She was dealing with very Christian modes," he said. "But I always found it such a beautiful place that with pain and sorrow from impossibly hard lives, she found the joy in those songs. She brought that to life in ways that I really worship."
That presence seems key to understanding the record's aims.
"There's a lot of pain," Vernon said. "There's a lot of bad things happening all over the place, and here we're talking about music songs. But it's very important that we are."
He detailed some of the events that have colored the way he sees this year, saying the most choked up he felt all year is when Carmelo Anthony, Chris Paul, Dwyane Wade and LeBron James opened the ESPYs by saying the names of those who had recently been killed by police violence. "They were just like: 'Enough of this shit,'" Vernon paraphrased. "'We have to talk about this stuff. It has to be love and communication. America is way too good of an idea to be getting shit on this hard.'"
His music does not make a statement anywhere near as blunt, but it does offer a similar sort of affirmation. 22, A Million is a snapshot of the process of finding one's place in a frightening unknown. Its truth is not in its details or in its quirky numerology, but in the way just about anyone can look into depths and see whatever they need to see.