Joe Biden is making a cameo on 'Law & Order: SVU' to talk about rape kit backlogs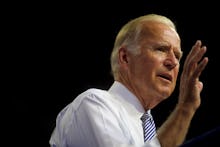 On Wednesday night's episode of Law & Order: SVU, Vice President Joe Biden will make a guest appearance as himself to applaud the show's detectives on their efforts to eliminate the rape kit backlog, according to the Guardian. 
Though Biden has spoken out about the country's estimated 400,000 untested rape kits before, his SVU cameo is especially timely considering the Department of Justice's Monday decision to allot over $38 million to processing the kits. 
"These grants provide resources and improve processes to test kits, provide training to law enforcement personnel and improve the justice system while providing justice and resolution to the victims of sexual assault," explained Denise O'Donnell, director of the Bureau of Justice Assistance, in a press release. 
Grants like these are particularly important for places like Detroit, Michigan — the city at the focus of Wednesday night's SVU episode — where more than 15,000 rape kits languish in the Detroit Police Department storage facility alone. Michigan remains one of the states with the greatest known number of backlogged kits, second only to Texas. 
Last year, a woman named Kym L. Worthy, the head of the Wayne County, Michigan, prosecutor's office, decided to start independently raising money to test the kits. She eventually inspired other women in Detroit to join the cause, forming an organization called Enough SAID. However, the group was only able to put a small dent in the $27 million in would cost to test all of the kits. 
Biden and Hargitay, whose work on SVU is just one facet of her activism, have teamed up before to talk about sexual assault. In 2014, the two appeared in a PSA for the No More campaign, which aims to raise awareness about both sexual assault and domestic violence. And just this past May, Biden received an award from Hargitay's domestic violence, sexual assault and child abuse organization, the Joyful Heart Foundation. 
Biden's reputation as a leader in the fight to end assault and help victims is more than just talk. Last year, Biden and Attorney General Loretta E. Lynch announced $41 million in grants to go toward testing rape kits. 
"Joe Biden is one of the greatest people on the planet," Hargitay told People magazine when speaking about his upcoming SVU appearance. "He's the real deal, I have so much admiration, respect, love. I don't usually throw out the word 'hero,' I don't, but he's probably mine."