The Senate just hit Obama with his first-ever veto override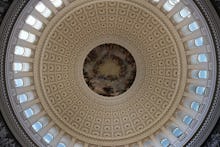 The Senate on Wednesday handed President Barack Obama the first veto override of his presidency, voting by a stunning 97-1 margin to allow American victims of terrorists attacks to sue foreign nations that sponsored them.
The 97-1 vote amounted to a rare moment of bipartisan agreement on Capitol Hill, with Senate Minority Leader Harry Reid standing as the only Senator to vote against the override.
On Friday, Obama vetoed the Justice Against Sponsors of Terrorism Act, which would allow 9/11 victims' families to sue Saudi Arabia for allegedly playing a role in the 2001 terrorist attack, saying it would hinder the president in conducting foreign policy.
But even some of Obama's biggest supporters — including Democratic nominee Hillary Clinton and soon-to-be Senate Democratic leader Chuck Schumer — supported the veto override.
Some foreign policy experts have expressed fears of the bill, saying it would open America up to lawsuits from other countries if the U.S. military accidentally kills noncombatants abroad, for example.
"An errant drone strike that kills noncombatants in Afghanistan could easily trigger lawsuits demanding that U.S. military or intelligence personnel be hauled into foreign courts," two former officials in President George W. Bush's administration wrote in a Wall Street Journal op-ed in early September.
Some top Senate Republicans have expressed similar concerns.
"This isn't to me about Saudi Arabia, it's the blowback to us because we're the most involved in the world," Sen. Bob Corker, the Tennessee Republican and chairman of the Senate Foreign Relations Committee, told USA Today. "What you really do is you end up exporting your foreign policy to trial lawyers."
The House is expected to vote on the override as soon as Wednesday afternoon.