Erupting volcano in Indonesia trapped hundreds of tourists, over 250 still unaccounted for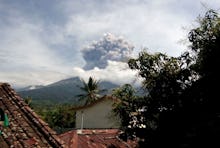 Over 1,000 people had to be evacuated from a popular Indonesian tourist destination shortly after a volcano erupted without warning on Tuesday. According to NBC News, over 200 tourists were thought trapped on the mountain after a column of ash launched 6,500 feet from the mouth of Mount Barujari, a "baby volcano" inside the Mount Rinjani volcanic crater.
According to reports, rescue teams were looking for at least 389 tourists who'd registered to climb Mount Barujari. Roughly 120 of them — mostly foreign — were found and taken down the mountain. So far there are no injuries related to the eruption, but over 250 people are still unaccounted for.
Sutopo Purwo Nugroho, spokesman for the Disaster Mitigation Agency, said scientists had warned visitors that anything within 1.6 miles of the crater was designated a danger zone, according to the Associated Press. Still, tourists disregarded the warning to get better photo and video of the eruption.
Rinjani, a 12,224-foot-high volcano, is one of approximately 130 active volcanoes in Indonesia.